Overview
Enqbator Products
Enqbator uses whatever tool possible to best fit your needs. We have proven solutions and expertise in the Healthcare, Judicial and Non Profit Markets.
Our team members all have decades of experience designing web products for hospitals and the court systems from mobile apps to web-based tools and solutions. We design with both smartphone and desktop users in mind, so your websites and apps get the most possible traffic.
Please read below for more information on all the great products that the team at Enqbator offers.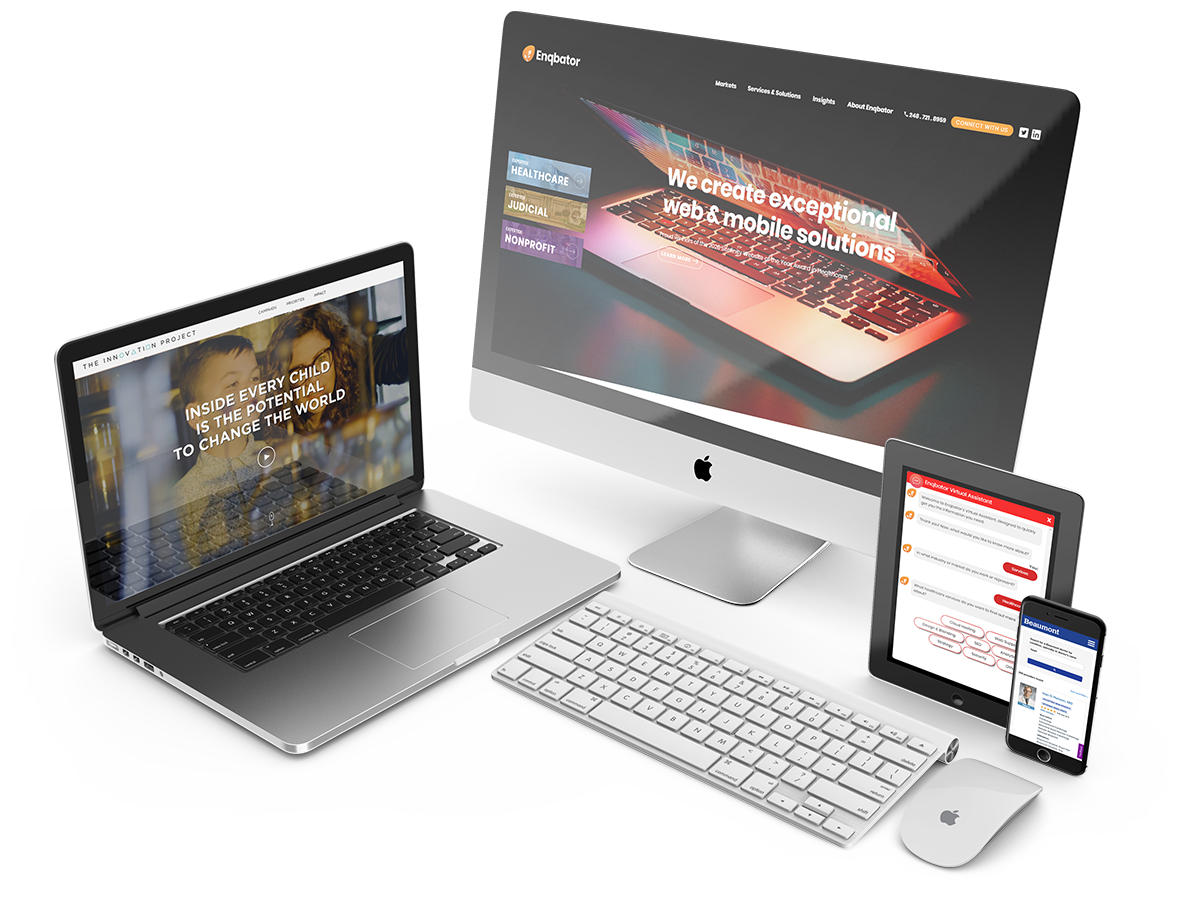 Products designed for your market, for your needs

Enqbator uses its partnership with some of technology's top resources. But, we are extremely knowledgeable and creative in order to build the solutions specific to your industry and for your needs. For information on all of the Products & Solutions Enqbator offers for your specific market, please follow the links below.
VNOTIFI - Mass Notification Platform
vNotifi is a cloud-based mass notification platform that uses various channels such as text, chatbot, voice, and email to send messages, alerts, notifications, reminders and more to key customers, patients, employees, and stakeholders. vnotifi's platform is designed to engage, alert, and inform your most critical resources, your people. You can design and schedule the right message, to the right people, at the right time.
Learn More
Virtual Assistants and Chatbots
Help users to your site find their way fast with the help of Enqbator's new Virtual Assistant. You'll have total control over the flow of the assistant and can create all questions and prompts. Your users will be able to get to the information and content they need in a fast, more efficient way.
Learn More
Mobile EMS App
Enqbator has designed custom mobile app solutions for our healthcare clients. Using the power of Sitefinity CMS and its headless capabilities, you can create and edit content and deliver that content directly to your mobile app. We will work with you to analyze your needs and create a custom mobile app just for you.
Learn More
Intranets
Security and information go hand-in-hand. Your internal corporate content needs to be managed in a way that will deliver your information to your employees in a safe and secure manner. Enqbator has worked with some of the country's top healthcare systems to implement safe and secure intranets and employee portals.
Location Search
Enqbator's experience in the healthcare market has allowed us to perfect the web-based ability for hospital visitors to find what they are looking for. Easy, updated searching features will let the user easily find all the information they will need about any hospital or health system's locations.
Video Library Module
If you've got a website, you've probably spent more time than you wanted on linking videos. You don't have to, though. Enqbator's custom-made Video Library lets you automatically move videos from a database to your pages on Sitefinity. Best of all? Its drag n' drop module, designed for maximum convenience. If an admin has assigned a video any categories, Video Library automatically places that video onto your page. Which means you don't have to go to each page and place the videos by yourself. Video Library does that for you in an easy drag n' drop fashion.
Courtroom Checkin
Enqbator's Courtroom Check-In solution, provides a convenient mechanism for Judges to know when parties of a case arrive at their Courtroom. This allows Judges and JA's to get an instant status on their dockets and allow them to prioritize the hearings based on check-ins. Then, JA's can initiate SMS Notifications for parties, see who has checked in and notify them that their case is up next. Making your day more efficient is our goal. Take a look below at all the great features of Enqbator's Courtroom Check-In.
Express Pass
Make your smartphone a remote control. Before the hospital visit, at the hospital or still at home, Express Pass will work for you. Think of what your customers can use this for. If they've got regular appointments with a doctor, the app will help them keep their calendars in order. If they need directions to your locations, the app provides not just those, but the hours of operation as well.
Mediation App
Our app was designed to smooth out any wrinkle the mediation process could hit. This way your employees can keep their focus on mediation itself, not the various things that go on around a successful mediation. Thanks to Enqbator, announcements and notifications have never been easier to make, cases have never been easier to schedule or change, panels never easier to create, reports never easier to generate. We make it all as easy as possible. For a streamlined, thorough, and flexible mediation experience, choose Enqbator.
Learning Management Module
Regardless of who you're training, we make it easy for them to access material and exams. Thanks to our login system, you can even save and retrieve tests, or retake exams with a single tap. Since everything's available online, employees can receive training by their own schedule. Administrators also have plenty of options. They can choose between multiple-choice or fill-in-the-blank questions, which are easy to create and randomize. Plus, your course content is easy to create, edit or delete, and you can add photos or videos if you wish. What matters here are options and this application gives them all. A wide variety of flexible strategies is important for employee training, and our app offers them.
Online Assessment and Inforgraphic Tools
Through a combined and creative effort from their full team, we are hoping to do our part to help in this current healthcare crisis and offering free tools to help healthcare providers manage communication to the community. In addition to offering these free tools during the coronavirus crisis, these Enqbator assessment type products can help you in many other situations.
Find a Doc
Enqbator's developers are experts in creating proven and effective physician searches for any sized hospital system. We have worked with some of the largest systems in the U.S. and are able to tie in to any physician credentialing or database system. With an advanced Physician Search, not only are visitors to your website able to perform basic searches for doctors, but they will also have the ability to filter their search by things such as location, gender or languages spoken.
Website visitors, through highly developed customization, can also be delivered so much more information, tailored just for them. Important, needed information such as physician ratings, news and driving directions can give potential patients, friends or hospital visitors a wealth of important information.
Attorney Case Assignment System
The Attorney Case Assignment System is an innovative tool that streamlines the process of assigning attorneys to legal cases. This system allows attorneys to receive notifications when new cases are available, review the details of each case, and select the cases that fit their expertise. The system also helps attorneys to manage their time, prioritize cases, and track their progress. With the Attorney Case Assignment System, legal teams can effectively manage their cases and ensure that the right attorney is assigned to each case.
Attorney Payment System
Our Attorney Payment System is designed to make payment processing more efficient and secure for attorneys and their clients. We offer a simple, secure platform that allows attorneys to process payments quickly and securely, and provides clients with an easy and convenient way to pay. Our system is designed to protect the confidentiality of all parties involved in the payment process, while also providing an efficient and secure payment solution.
Connect with us
Interested in our newsletter?
Sign Up