Overview
Enqbator Services
Enqbator provides a wide range of services designed to best fit your needs. We have proven solutions and expertise in the Healthcare, Judicial and Non Profit Markets.
Our team members all have decades of experience designing web products and offering digital services and solutions for hospitals and the court systems from CMS support to e-commerce integrations. We design with both smartphone and desktop users in mind, so your websites and apps get the most possible traffic.
Please read below for more information on all the great services that the team at Enqbator offers.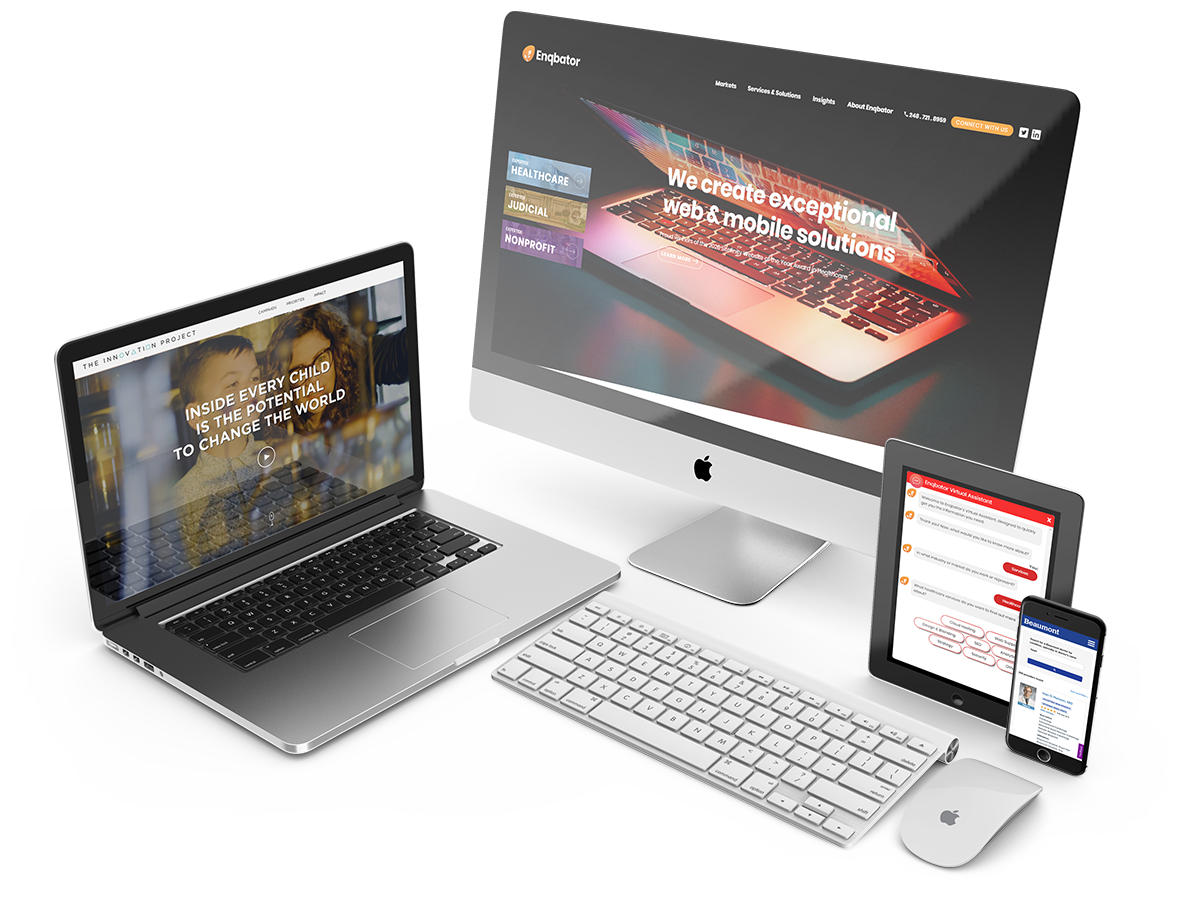 Services for your market, for your needs

Enqbator uses its partnership with some of technology's top resources. But, we are extremely knowledgeable and creative in order to build the solutions specific to your industry and for your needs. For information on all of the Services & Solutions Enqbator offers for your specific market, please follow the links below.
Content Management System Support
Using the power of Progress Sitefinity CMS, our team of experts looks for the best solution to meet your needs. We have been at the forefront of some of the digital healthcare world's most exciting technological advances and Sitefinity is a major part of our success. Our goal is to make your job easier and to help you make your customers comfortable. Sitefinity allows us to do what we do. Thanks to its emphasis on ease-of-use and customization, Sitefinity puts the customer first. No wonder it has become a leading CMS. Sitefinity's strengths allow us to help provide you with the best possible management tools for your situation.
Learn More
Web Development
Enqbator's web developers are experienced and innovative. Each developer is thoroughly trained and proficient in all aspects of web development and knows all the ins and outs of Progress Sitefinity, our preferred CMS. The web development process at Enqbator involves always putting our customers' best interests first. Through the complete discovery, design, development and testing process, we'll be there for you. Our developers will work together with you every step of the way to launch and support your successful web presence.
Mobile App Development
Enqbator is an expert in current trends and user behavior. With a higher percentage of users accessing the web via mobile devices, we know the importance of making sure all our clients' digital content is made accessible in the most efficient way possible, with user experience a high priority. Our mobile products and apps make your brand shine and your users happy. We've created top mobile digital solutions for several of our clients, including our Mobile EMS App, Express Pass, Mediation App and Beaumont's ACO Mobile App. Let us create the perfect mobile solution for you.
Hosting
Enqbator uses the power of Amazon Web Services. AWS offers cloud web hosting solutions that provide businesses, non-profits, and governmental organizations with low-cost ways to deliver their websites and web applications. Whether you're looking for a marketing, rich-media, or ecommerce website, AWS offers a wide-range of website hosting options, and we'll help you select the one that is right for you.
IT Consultation
Enqbator has worked closely with major IT departments, helping to provide infrastructure and integrations recommendations. Enqbator knows what it takes to bring all aspects of web development together. We can manage your website's hosting environment completely, or if needed, we will work together with your IT group. Either way, we'll make sure everything is done only with your best interest in mind.
Web Support
From start to finish, we'll never stop supporting your company, your brand and your needs. We provide personal and responsive attention to everything you need to keep your website running well and looking great! Our support teams will be ready to not only solve any problem, but we'll be creatively ready to look forward and do anything we possibly can to make your web presence even better.
Intranets
Security and information go hand-in-hand. Your internal corporate content needs to be managed in a way that will deliver your information to your employees in a safe and secure manner. Enqbator has worked with some of the country's top healthcare systems to implement safe and secure intranets and employee portals.
Design and Branding
Our award-winning design team has come up with designs for some of the top and most respected brands in the country from the health care market to one of America's most loved museums. Our designers are not only finding every way to make you look good, but they are experts in web visitor behavior and all aspects of usability. We will make your brand shine and we'll do it specifically for you and for what is best for you and your users.
UX Services
Enqbator offers a comprehensive suite of user experience services to help you understand your customers and optimize their user interfaces. We specialize in usability testing, user interviews, user surveys, user journey mapping, card sorting, A/B testing, heuristic evaluations, focus groups, and competitive analysis. Through these services, they are able to gain deep insights into user behavior, which can be used to improve the user experience and increase customer satisfaction. With our expertise and resources, We are able to provide businesses with the data and insights they need to make informed decisions and build better user experiences.
Accessibility Compliance
The issue of website accessibility has been growing rapidly, affecting an increasing number of websites and businesses. Through our partnership with accessiBe, we provide an AI-powered web accessibility solution that can easily and affordably make websites accessible to people with disabilities, and compliant with the WCAG, ADA, and other accessibility legislation. Reduce costs and time, protect your business, and support people with disabilities by making your digital ecosystem accessible.
Digital Commerce Integration
Through Enqbator's partnership with Progress Sitefinity CMS and our expertise in the digital commerce field, Enqbator has all the knowledge you will need. Custom digital commerce integrations help you by offering catalogs, multiple storefronts, targeted promotions and payment processing. In the end, your website visitors will have a much more user-friendly, streamlined experience and you'll be on your way to increased revenue and brand awareness.
GDPR Cookie Systems Integration GDPR Cookie Systems
Consumer privacy is one of the most important things in the world of the internet today. Enqbator has all the knowledge on all the rules, laws and guidelines, whether it is GDPR or CCPA. And, we'll be ready for anything new. When users visit your site, a required Cookie notice will appear. We can now give you the ability to easily manage what your users see through a simple and effective administrative dashboard. You'll have the control to modify the notices whenever laws and requirements change. Your users meanwhile, will be informed and their web experience will be safe.
Electronic Filing Integration Solutions - "E-FILE"
Enqbator's new electronic filing system integration solutions have been put in place as part of the broader MiFILE initiative, a state-wide system sponsored by the State of Michigan Court Administration Office. MiFILE's goal is to bring electronic filing to all of the Michigan Trial Courts. It also provides an optional cloud-based Document Management System to the courts to allow the storage, retrieval and workflow routing of electronic documents. Parties involved in a case can electronically serve one another with documents and receive notifications from the courts. MiFILE will eventually be available in all Michigan courts for every eligible case type. Enqbator has the knowledge and experience to get your e-filing system implemented.
Zoom Virtual Hearings
The team at Enqbator understands how challenging a time this is for our court systems here in Michigan. Enqbator has worked with some of Michigan's top court systems and has a full knowledge of Michigan's State Court Administrator's Office (SCAO) newly recommended ZOOM/YouTube process. Enqbator has been working hard to help courts here in Michigan put these new ZOOM virtual hearings systems in place and we're ready to do it for you.
Online Document Management
Our document management software is designed for maximum security. Allows admins to set permissions, giving you control over who can see what. Automatically indexes all documents so you can pull them up again with ease. You'll never have to worry about your documents or their security again.
Digital Asset Management
Our asset manager automates that process, so your employees don't have to do it. Our software will allow you to track and manage hardware and software assets through their whole life cycles. From installation to the moment they break. Generating reports about assets has never been easy. Select from multiple parameters and generate the reports that you need. Enqbator is ready to customize the reports & parameters to suit your needs.
Taxonomy
Simply put, taxonomy ensures users stay on your site. When your visitors land on a page, a taxonomy system makes sure they see related events, topics, news, and content.
Online Assessment and Infographic Tools
Through a combined and creative effort from their full team, we are hoping to do our part to help in this current healthcare crisis and offering free tools to help healthcare providers manage communication to the community. In addition to offering these free tools during the coronavirus crisis, these Enqbator assessment type products can help you in many other situations.
Connect with us
Interested in our newsletter?
Sign Up