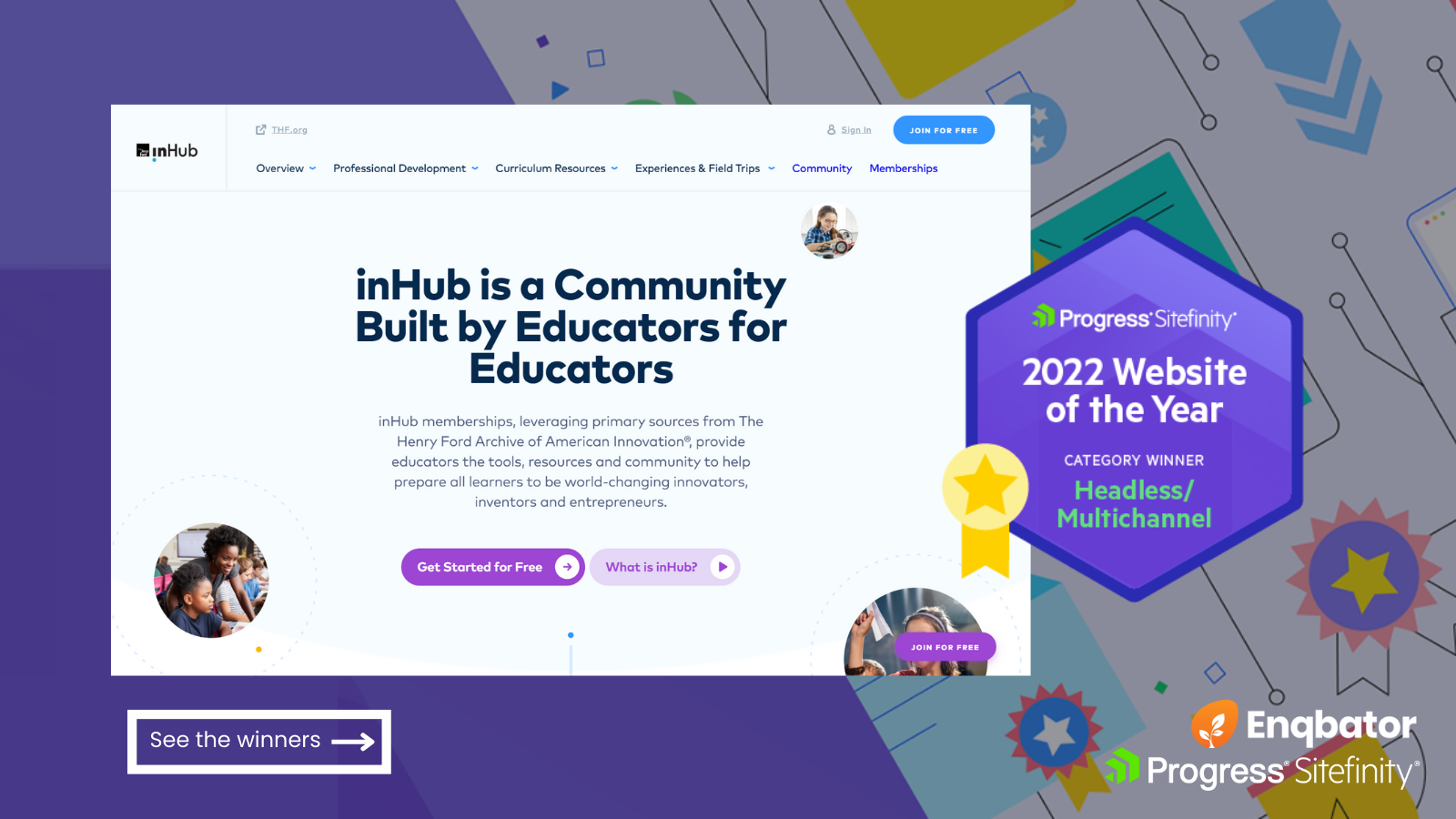 Enqbator partner website, The Henry Ford's inHub Educational Platform, named as 2022 Progress Sitefinity Website of the Year
Troy, Michigan -- Enqbator, an award-winning digital solutions agency serving some of our country's most successful brands, is excited to announce that inHub, an online education platform from The Henry Ford, has been named the 2022 Progress® Sitefinity® Website of the Year Awards winner in the Headless/Multichannel category.
For more than a decade, the awards have recognized Sitefinity partners and customers for the exceptional digital experiences they deliver to their customers and end users. The contest was open for all Sitefinity platform deployments that were launched or significantly upgraded in the past year. The 2022 Website of the Year Awards winners were evaluated across six categories of criteria — visual design, content, layout and navigation, complexity, innovation, and significance — and selected through public voting with more than 6,200 votes cast.
inHub, created by The Henry Ford as "The learning platform, built by educators for educators," bills itself as a global resource for innovation, invention, and entrepreneurship. The Henry Ford is America's primary resource for innovation, invention and entrepreneurship-related objects, documents, experiences, and stories.

inHub supports this work by creating an online global community that offers its members a digital asset library, curriculum and learning resources, professional development and certification, and virtual field trips and experiences – all in one place.
Enqbator played a key role in the design and development of the inHub website, including important integration and portal solutions. Enqbator represents its clients with design, development and support expertise and services and is honored to see these combined efforts receive such great recognition.
Enqbator worked closely with The Henry Ford to produce a creative and unique solution. Enqbator integrated the existing learning management system (LMS) with Sitefinity in a way that allowed users to seamlessly view and register for classes.
"The Sitefinity Website of the Year Awards celebrate some of the most innovative digital experience implementations that are pushing the boundaries of customer engagement," said John Ainsworth, EVP Enterprise Application Experience Products, Progress. "We're thrilled to recognize inHub, The Henry Ford, and Enqbator who together as industry leaders, have successfully created exceptional experiences for their customers through the power of Sitefinity."
Sujal Raju, CTO and Founder of Enqbator, once again was proud of the accomplishments of the Enqbator team and of another successful project and another happy client partner.
"First of all, to be associated with such a great institution as The Henry Ford, is an honor," Raju said. "The inHub project was both challenging and rewarding. The complex integrations involved, and the creative design and development efforts put in by our team were amazing to see. And of course, the cooperation and teamwork shown by the inHub and The Henry Ford teams made all the difference. This award is a great reflection of all the hard work and knowledge from all sides, and we couldn't be prouder," he added.

Please visit the following links regarding The Henry Ford, the inHub project and Enqbator.

About Enqbator
Enqbator is a digital solutions agency based in Troy, Michigan. We provide exceptional customer service, highly technical and creative web, and mobile expertise, and complete, but cost-effective solutions. We act as an extension of each client's team, always putting their needs first. We build long-lasting partnerships through our honest, responsive approach, our personal care and attention, and our passionate commitment to each client's success.
About The Henry Ford
The Henry Ford in Dearborn, Michigan, is a cultural destination that brings the past forward by immersing visitors in the stories of American ingenuity, resourcefulness, and innovation. A national historic landmark with an unparalleled collection of artifacts from 300 years of American history, The Henry Ford is a force for sparking curiosity and inspiring tomorrow's innovators. More than 1.8 million visitors annually experience its four venues: Henry Ford Museum of American Innovation, Greenfield Village, Ford Rouge Factory Tour, and the Benson Ford Research Center. Find out more at www.thehenryford.org .
About Progress
Dedicated to propelling business forward in a technology-driven world, Progress (Nasdaq: PRGS) helps businesses drive faster cycles of innovation, fuel momentum and accelerate their path to success. As the trusted provider of the best products to develop, deploy and manage high-impact applications, Progress enables customers to develop the applications and experiences they need, deploy where and how they want and manage it all safely and securely. Hundreds of thousands of enterprises, including 1,700 software companies and 3.5 million developers, depend on Progress to achieve their goals—with confidence. Learn more at www.progress.com, and follow us on LinkedIn, YouTube, Twitter, Facebook, and Instagram.
Connect with us
Interested in our newsletter?
Sign Up