Overview
ThinkTenq Webinar Details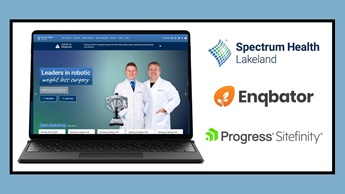 Crafting a Modern Digital Patient Journey with Sitefinity
Enqbator, Spectrum Health Lakeland, and Progress Sitefinity team up for this webinar on Crafting a Modern Digital Patient Journey with Sitefinity. This webinar features Sujal Raju (Enqbator Founder & CTO), Megan Yore (Spectrum Health Lakeland Chief Marketing & Communications Officer), Matthew Shine (Spectrum Health Lakeland Lead Digital Marketing Developer) and Alexander Shumarski (Progress Sitefinity Product Marketing Manager).
Spectrum Health Lakeland is known for its excellence in quality and its commitment to bringing a heart to healthcare for the 140,000 people the health system serves. Lakeland recognizes that the ability to deliver an excellent digital experience, providing patients with unique tools and engaging content, is important in the never-ending quest to improve the overall healthcare journey. Enqbator is please to have provided our expertise in this field to assist our partners at Spectrum Health Lakeland in their journey.
In partnership with Progress Sitefinity DXP and Enqbator, Spectrum Health Lakeland has been able to provide personalized patient communications while also improving content management processes.
This has empowered Spectrum Health Lakeland to:
• Deliver rich omnichannel digital experiences that improve patient satisfaction
• Eliminate dependence on IT to tackle quick, everyday content management tasks
• Improve operational efficiency and workflow processes to minimize duplication of effort
To find out more about our other successful projects and how our exceptional team has helped other top health systems, connect with us.
Connect with us
Interested in our newsletter?
Sign Up