Overview
ThinkTenq Webinar Details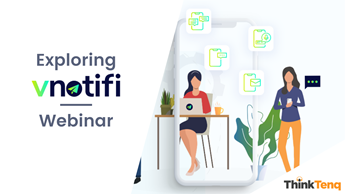 Ep 7: Perfecting Mass Notifications with vnotifi
In today's ThinkTenq Webinar, Enqbator Founder and CEO, Sujal Raju, talks about mass notifications and Enqbator's exciting new product, vnotifi.

vnotifi is a cloud-based mass notification platform. It simplifies the process for sending reminders and notifications! It uses text, chatbot, voice, and e-mail to deliver targeted messages to anyone you would like to reach. vnotifi's platform can also integrate with various 3rd party applications to automate and streamline the process of re-scheduling appointments when needed.
Find out more about vnotifi at https://vnotifi.com/.
Connect with us
Interested in our newsletter?
Sign Up