Overview
ThinkTenq Webinar Details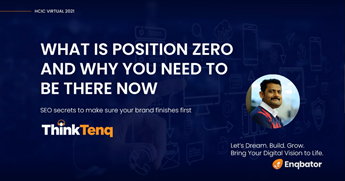 Ep. 14: What is Position Zero and Why You Need to be There Now
Position Zero is a coveted spot in the land of Google's search results. It's a place that every brand wants to be, but getting there requires the right technical knowledge. This month's ThinkTenq Webinar features Enqbator CTO and Founder, Sujal Raju, as he explains and shares his knowledge on what Position Zero is, why making Position Zero a valued part of your overall SEO strategy is important and the steps to deploy to get your brand there.

At Enqbator, we're here to help spread our knowledge, answer your questions, and help make your challenges easier.
To find out more about Enqbator and our work, check out our case studies, explore more on our website, or connect with us today!
Connect with us
Interested in our newsletter?
Sign Up