Overview
ThinkTenq Webinar Details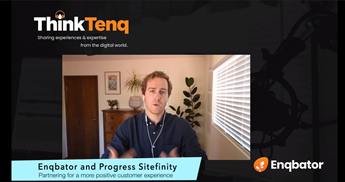 Ep 12: Leveraging Sitefinity DX 14.0 to Enhance the Digital Experience
Enqbator, as digital solutions experts, use Sitefinity to help our client-partners reach their digital goals and enhance their customers' experience. This month's ThinkTenq Webinar features Enqbator Sales Director, Kyle Clemmer, and highlights the latest features of Progress Sitefinity DX 14.0, how it can help your digital journey, and the importance of a certified digital partner to help create a solution just for you.
We're here to help spread our knowledge, answer your questions, and help make your challenges easier.
Contact us
today!
or visit our website:
enqbator.com
Connect with us
Interested in our newsletter?
Sign Up