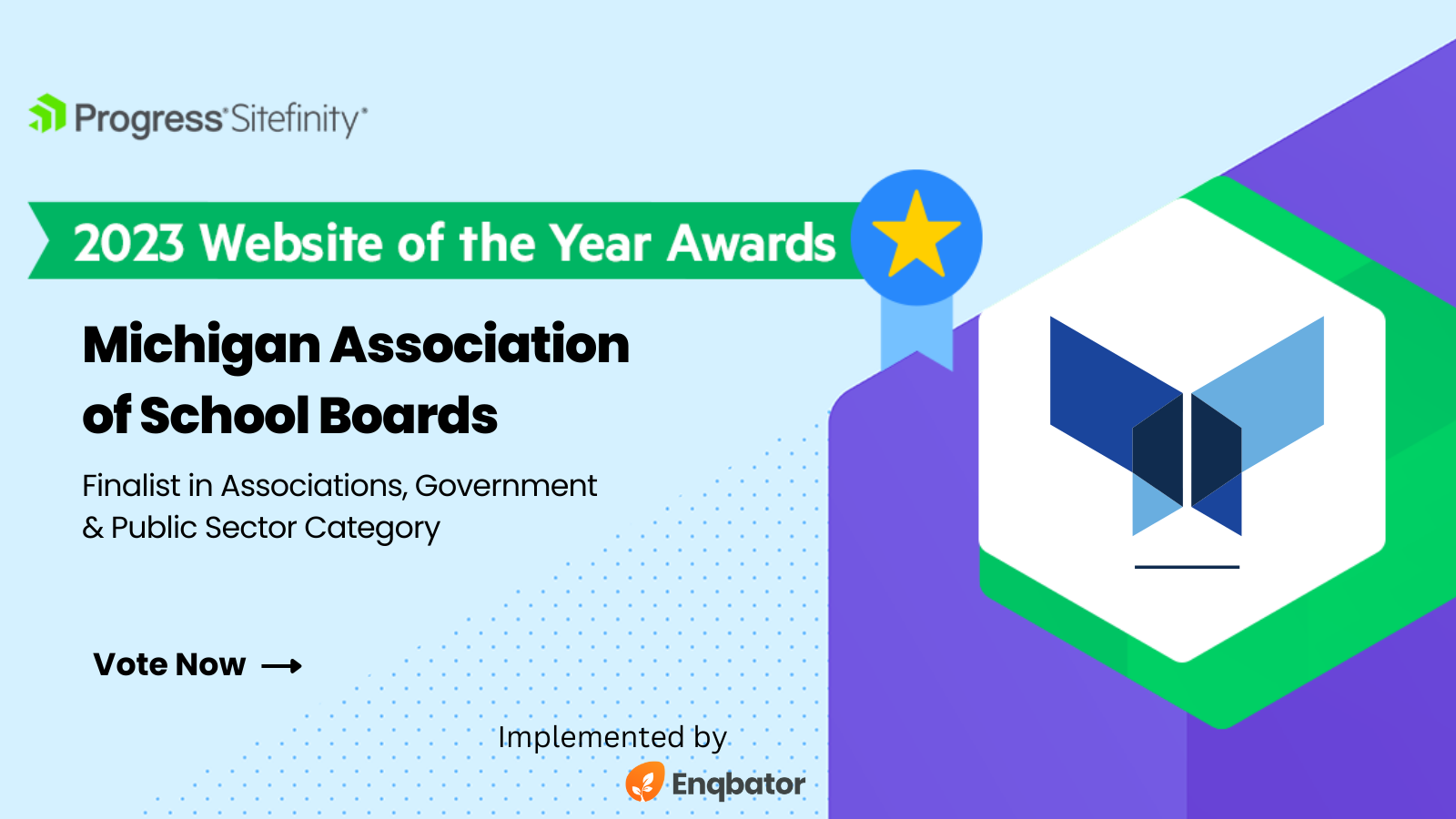 Enqbator Client Partner MASB Nominated for 2023 Progress Sitefinity Website of the Year Award and Your Vote Can Help
Enqbator, an award-winning digital solutions agency, and Sitefinity Premium Partner is honored to announce that its client partner, MASB (Michigan Association of School Boards), has been named a 2023 Progress Sitefinity Website of the Year Finalist in the Associations, Government & Public Sector category.
Since 2011, the Sitefinity Website of the Year Awards have recognized partners and customers for the exceptional digital experiences they deliver to their customers and end users. This year, the Progress Website of the Year panel of judges shortlisted 20 finalists across 7 categories. These include Progress Sitefinity-based websites from around the world.
These awards recognize exceptional digital experiences in Progress Sitefinity applications and criteria include visual design, content, layout and navigation, complexity, innovation, and significance.
MASB's leadership and administrative staff and Enqbator's design and development teams worked closely to produce multiple solutions to address all outstanding needs. The MASB and Enqbator collaboration led to a rewarding experience and a successful project relaunch.
Utilizing the power of Progress Sitefinity, along with the most modern UX and UI techniques and technologies, Enqbator was able to implement an effective and easy-to-manage solution.
The fresh contemporary design simplified the way users found the information they needed across both mobile and desktop devices. In addition to the UX and design elements, the website was re-platformed to the modern and industry-leading Progress Sitefinity content management and digital experience system.
This upgrade allowed website administrators the ability to create, edit and manage all aspects of the MASB's website content more easily and more quickly, using technology such as Personalization Workflows.
Also, the MASB website now utilizes a secure and efficient Single Sign On (SSO) process that coordinates with the MASB's existing Member Portal. So, not only is the public able to benefit from the front-end usability and design features of the new site, but the members were also provided with a safer, more secure, and streamlined experience.
Enqbator is proud of the work accomplished with MASB and excited to see this great organization reaping the rewards.
To vote for MASB in this year's Sitefinity Website of the Year Awards, please visit this link.
Enqbator designs and develops creative digital solutions, including websites, web and mobile applications, custom portals, and integration solutions. Enqbator partners with many successful and well-respected brands from across the country in all different industries. The Enqbator team proudly provides exceptional customer service, highly technical and creative web and mobile expertise, and complete but cost-effective solutions. With a passionate and dedicated team of professionals with advanced expertise in the Sitefinity DX platform, Enqbator leads the way in creating world-class enterprise products and services.
Enqbator acts as an extension of each client's team and builds long-lasting and trusted partnerships through its honest, responsive approach, personal care and attention, and passionate commitment to each client's success. As an established certified Premium Partner of the Progress Sitefinity Digital Experience Platform, the team at Enqbator finds multiple ways to make the most out of a customer's web content. Enqbator not only prides itself on its technical creativity but also on a strong passion for supporting its clients and creating long-lasting and trusted partnerships.
Connect with us
Interested in our newsletter?
Sign Up