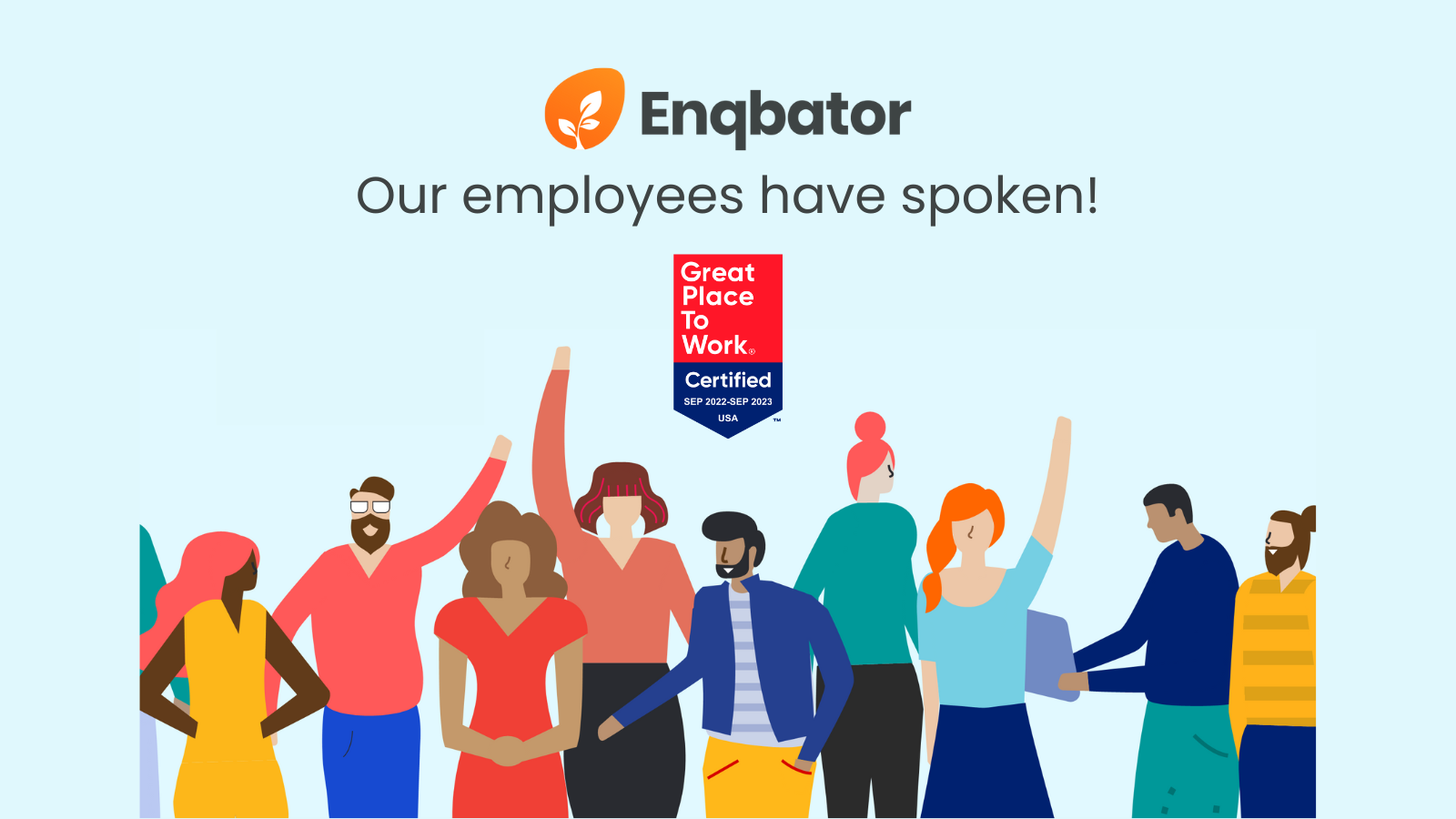 Enqbator Recertified as a Great Place to Work® in 2022-23
Enqbator is proud to once again be Certified™ by Great Place to Work® for the second year in a row!
Troy, Michigan — Enqbator is proud to once again be Certified™ by Great Place to Work® for the second year in a row! This prestigious award is based entirely on what current employees around the world say about their experience working at their respective companies.
Enqbator is thrilled that its employees get to be recognized for all the hard effort and teamwork they've put in to make Enqbator such a rewarding, fun, and GREAT place to work!
Enqbator has grown its client-partner list steadily through the past 12 years, as word-of-mouth referrals helped spread the positive Enqbator reputation not only throughout Michigan, but around the country. Its current client list includes high-profile and respected companies such as Beaumont Health, Spectrum Health Lakeland, The Henry Ford, and Mortgage Center, along with major district, circuit, and supreme court systems.
"We are really excited to once again be Great Place to Work® Certified. We are proud of the culture we have developed, and excited that our team members are also proud of that culture and of their role in our success," said Enqbator Founder and CEO Sujal Raju. "We owe our continued success to our team members, and we thank them for all they do every day. They truly are the reason we are here," Raju added.
"Great Place to Work Certification™ isn't something that comes easily – it takes ongoing dedication to the employee experience," said Sarah Lewis-Kulin, vice president of global recognition at Great Place to Work. "It's the only official recognition determined by employees' real-time reports of their company culture. Earning this designation means that Enqbator is one of the best companies to work for in the country."
Enqbator fosters a fun, family, team atmosphere that promotes and rewards each employee's hard work and commitment. Enqbator team members always put the client first and understand the importance of the attention and care each client needs and deserves.
Employees are encouraged to be creative and find new ways to solve challenges. Flexible work situations are allowed to help team members cope with everyday life events, no matter how big or small. This approach always seems to bring out the best in everyone and makes each team member feel just as important as the next.
Check out Enqbator's profile on Great Place to Work!
Enqbator is a digital solutions agency based in Troy, Michigan. We provide exceptional customer service, highly technical and creative web, and mobile expertise, and complete, but cost-effective solutions. With a passionate and dedicated team of digital solutions professionals with advanced expertise in the Sitefinity DX platform, Enqbator leads the way in creating world-class enterprise results for top brands across multiple industries. As an established certified Gold Partner of the Progress Sitefinity Digital Experience Platform, the team at Enqbator finds multiple ways to make the most out of a customer's web content. Enqbator not only prides itself on its technical creativity, but also a strong passion for supporting its clients and creating long-lasting and trusted partnerships.
About Great Place to Work Certification™
Great Place to Work® Certification™ is the most definitive "employer-of-choice" recognition that companies aspire to achieve. It is the only recognition based entirely on what employees report about their workplace experience – specifically, how consistently they experience a high-trust workplace. Great Place to Work Certification is recognized worldwide by employees and employers alike and is the global benchmark for identifying and recognizing outstanding employee experience. Every year, more than 10,000 companies across 60 countries apply to get Great Place to Work-Certified.

About Great Place to Work®
Great Place to Work® is the global authority on workplace culture. Since 1992, they have surveyed more than 100 million employees worldwide and used those deep insights to define what makes a great workplace: trust. Their employee survey platform empowers leaders with the feedback, real-time reporting, and insights they need to make data-driven people decisions. Everything they do is driven by the mission to build a better world by helping every organization become a great place to work For All™.
Connect with us
Interested in our newsletter?
Sign Up