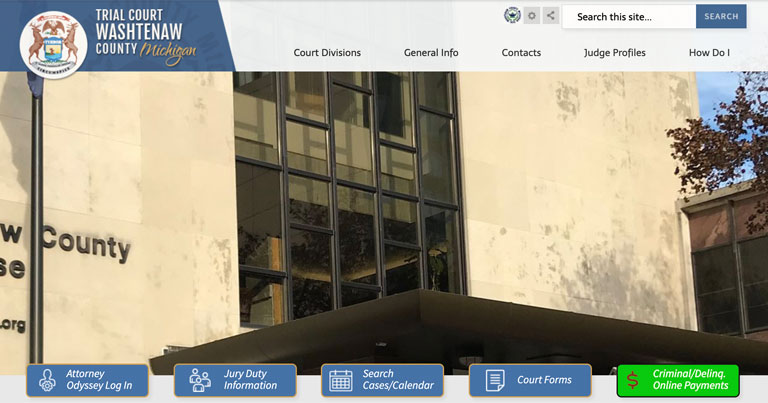 Enqbator Helps Launch New Electronic Filing System for Washtenaw County Court
Enqbator, an award-winning web and mobile solutions firm based in Troy, Michigan, recently announced the completion of its part in the new e-file system for Michigan's Washtenaw County Trial Court in Ann Arbor.
Troy, Michigan -- Enqbator, an award-winning web and mobile solutions firm based in Troy, Michigan, recently announced the completion of its part in the new e-file system for Michigan's Washtenaw County Trial Court in Ann Arbor.
This new electronic filing system is part of the broader MiFILE initiative, a state-wide system sponsored by the State of Michigan Court Administration Office.
MiFILE's goal is to bring electronic filing to all of the Michigan Trial Courts. It also provides an optional cloud-based Document Management System to the courts to allow the storage, retrieval and workflow routing of electronic documents.
Parties involved in a case can electronically serve one another with documents and receive notifications from the courts. MiFILE will eventually be available in all Michigan courts for every eligible case type.

The Washtenaw implementation is one of three new model systems, which included the 37th District Court in Warren and Michigan's Ottawa County Probate Court. E-Filing at the Washtenaw County Court became mandatory for all attorneys starting on January 13, 2020. Remaining Michigan courts will be brought onto MiFILE in waves, over the course of several years..
According to Enqbator President and CEO, Sujal Raju, this was a huge undertaking and a major accomplishment for the Enqbator team. This project showed once again the creativity and versatility of the Enqbator team. Enqbator was able to work quickly and cooperatively with other vendors in order to successfully overcome many hurdles.
The Washtenaw implementation was not the first successful court related e-filing project for Raju, having played a big part in the successful launch of the e-filing system at the Wayne County Circuit Court in 2018.
The State of Michigan's MiFILE system uses two main processes and products to help it work. Image Soft is the vendor chosen to give all the courts in Michigan the ability to file cases online, while Tyler's Odyssey product serves as the court's case management system.
For Raju and Enqbator, the challenge was to create a technical solution to help those two systems talk to each other effectively.
"We bridged the technical gap between those two systems. As soon as the information is approved by the court clerk it comes through the Enqbator developed system where the data is massaged and then delivered seamlessly into the court's system," he said.
"We make the data talk to the court's CMS. It then ends up in the court's system as if someone physically took the hard-copy documents directly to that court or was present at the court typing the information in. We allow that information to flow through," Raju added.
Enqbator's part in this important and successful project, gained the appreciation of project administrators.
Eric Badgley, E-Filing Project Manager at the Michigan Supreme Court was impressed with the Enqbator team's commitment to the project and ability to work quickly to come up with an effective solution.
"Sujal and his team are very responsive, dependable, and honest. I would recommend his professional services to anyone that needs it. Enqbator was awarded a contract on a project that was behind schedule at the time. He was able to perform the work in a limited amount of time yet his team still maintained a high level of quality and always kept a positive attitude," Badgley said.
"Enqbator exceeded my expectations. They were effective in communicating clearly to multiple stakeholders and they weren't afraid to operate outside of their box to help the overall project be successful."
To find out more about Enqbator and its capabilities in the Judicial Technology field, visit https://www.enqbator.com, email info@enqbator.com or call (248) 721-8959.
For more information on the State of Michigan MiFILE system, please visit
https://courts.michigan.gov/courts/trialcourts/mifile/pages/default.aspx
.
Connect with us
Interested in our newsletter?
Sign Up