Troy, Michigan (July 22, 2019) - The latest Progress Sitefinity Webinar, featuring Enqbator and Spectrum Health Lakeland is now available on-demand. To view this informative presentation, please visit
https://www.progress.com/campaigns/sitefinity/webinars/SpectrumLakelandHealthWebinar
.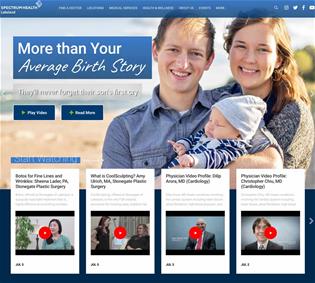 The webinar, Crafting a Modern Digital Patient Journey with Sitefinity, features
Sujal Raju
(Enqbator CEO & President), Megan Yore (Spectrum Health Lakeland Chief Marketing & Communications Officer), Matthew Shine (Spectrum Health Lakeland Lead Digital Marketing Developer) and Alexander Shumarski (Progress Sitefinity Product Marketing Manager).
Spectrum Health Lakeland is known for its excellence in quality and its commitment to bringing a heart to healthcare for the 140,000 people the health system serves. Lakeland recognizes that the ability to deliver an excellent digital experience, providing patients with unique tools and engaging content, is important in the never-ending quest to improve the overall healthcare journey.
Enqbator is please to have provided our expertise in this field to assist our partners at Spectrum Health Lakeland in their journey.
To find out more about our other successful projects and how our exceptional team has helped other top health systems, please call (248) 721-8959 or fill out our customer contact form.
About Spectrum Health Lakeland
Spectrum Health Lakeland is a non-profit, community-owned health system serving southwest Michigan and northern Indiana that offers a full continuum of care and wellness services including three hospitals, an outpatient surgery center, a cancer center, and 41 physician practices.
Lakeland is a division of Spectrum Health with 31,000 compassionate professionals, 4,200 medical staff experts, 3,200 committed volunteers and a health plan serving 1 million members. For the second time, Spectrum Health Lakeland was recognized as a 15 Top Health System by IBM Watson Health™. Lakeland Medical Center in St. Joseph and Lakeland Hospital Niles were also named to the 100 Top Hospitals list in 2014 and 2019.
About Enqbator
Enqbator is a web development firm based in Troy, Michigan that specializes in all aspects of web development, from websites and mobile apps to analytics and online marketing. Their unparalleled expertise in integrating client sites with clients' internal and external systems provides users with seamless browsing experiences. By striving to work as an extension of each client's own team, Enqbator has forged long-lasting professional relationships.