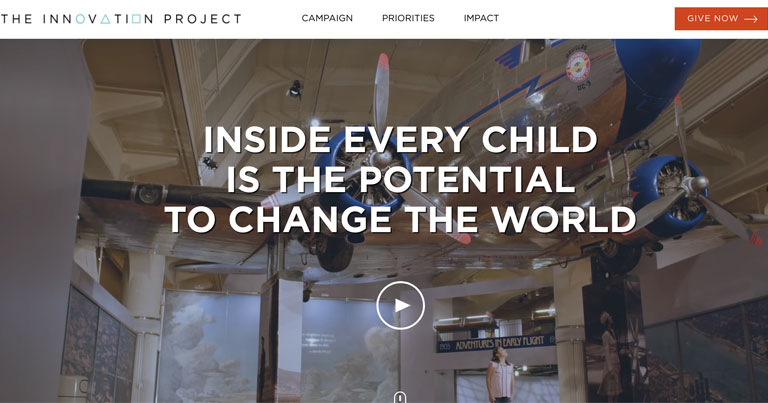 Enqbator plays key role in launch of new website for The Henry Ford Innovation Project
Using the power of Sitefinity 11.0, the Enqbator team worked hard to implement the design of Lovio-George and the inspiration of The Henry Ford.
Troy, Michigan - October 23, 2018 - Designed by Lovio-George of Detroit, Michigan, Enqbator, LLC recently completed development work toward a successful launch of the online presence for The Henry Ford's "Innovation Project."
Using the power of Sitefinity 11.0, the Enqbator team worked hard to implement the design of Lovio-George and the inspiration of The Henry Ford.
This campaign, The Innovation Project, will help The Henry Ford build digital and experiential learning tools, programs and initiatives to advance innovation, invention and entrepreneurship, it was announced today by Patricia Mooradian, President and CEO of The Henry Ford.
"We have an obligation to seize this moment in The Henry Ford's history by focusing our efforts, far and wide, on high-impact youth learning and development," said Mooradian. "At The Henry Ford, we believe that access to the ideas and innovations that have shaped our country should be available to everyone, regardless of backgrounds and barriers. We want to aggressively and intentionally leverage our unique assets, both physically and digitally, to educate, influence and inspire tomorrow's leaders."
Enqbator is proud to have played a role in the launch of this great educational and informational tool. For more information and to visit the project website, please visit https://www.theinnovationproject.org/.
---
About Enqbator
Enqbator is a web development firm based in Troy, Michigan that specializes in all aspects of web development, from websites and mobile apps to analytics and online marketing. Their unparalleled expertise in integrating client sites with clients' internal and external systems provides users with seamless browsing experiences. By striving to work as an extension of their client's own team, they have forged long-lasting professional relationships with many of their clients.

About The Henry Ford
Located in Dearborn, Michigan, The Henry Ford, a globally-recognized destination, fosters inspiration and learning from hands-on encounters with artifacts that represent the most comprehensive collection anywhere focusing on innovation, ingenuity and resourcefulness in America. Its unique venues include Henry Ford Museum of American Innovation, Greenfield Village, Ford Rouge Factory Tour, Benson Ford Research Center and Henry Ford Academy, a public charter high school. Together with its online presence at thehenryford.org, its national television programs, The Henry Ford's Innovation Nation and Did I Mention Invention? and other resources, The Henry Ford helps individuals of all kinds to unlock their potential and help shape a better future. The Henry Ford advanced its role as a catalyst for change in education with the acquisition of The STEMIE Coalition, a growing affiliation of organizations dedicated to fostering innovation, invention and entrepreneurship in students, K-12. With STEMIE, The Henry Ford hosts the National Invention Convention and Entrepreneurship Expo (NICEE) and makes innovation learning curriculum accessible to educators and students worldwide.
Connect with us
Interested in our newsletter?
Sign Up