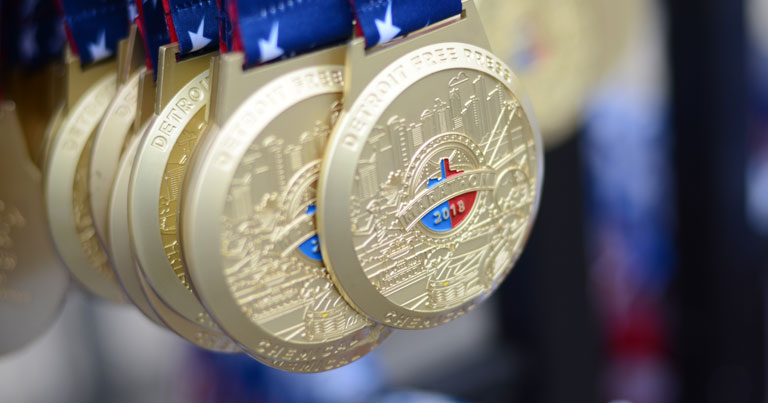 Enqbator founder, team members complete Detroit Marathon Relay
Enqbator joins 1000's others for a morning of fall running in Detroit at the 2018 Detroit Free Press/Chemical Bank Marathon.
Detroit, Michigan - August 21, 2018 - Enqbator, LLC Founder and CEO Sujal Raju joined with fellow team members to participate and complete the 2018 Detroit Free Press/Chemical Bank Marathon Relay on August. Relay teams consisted of 5 members, each completing part of the full 26.2 mile marathon distance.
The Marathon Relay started in Detroit with runners heading over the Ambassador Bridge connecting Detroit and Windsor, Ontario. After traveling through the city of Windsor, runners arrive back into the U.S. through the Detroit-Windsor Tunnel. From there, the course heads out to Detroit's Belle Isle State Park and then back into the heart of the City of Detroit for the finish.
In addition to the Marathon Relay, events included the full Marathon distance of 26.2 miles and two separate Half Marathon events -- one also traveling to Windsor and back to Dertroit and also a U.S. only half marathon.
For more information on the Detroit Free Press/Chemical Bank Marathon, please
click here
.
---
About Enqbator
Enqbator is a web development firm based in Troy, Michigan that specializes in all aspects of web development, from websites and mobile apps to analytics and online marketing. Their unparalleled expertise in integrating client sites with clients' internal and external systems provides users with seamless browsing experiences. By striving to work as an extension of their client's own team, they have forged long-lasting professional relationships with many of their clients.
Connect with us
Interested in our newsletter?
Sign Up