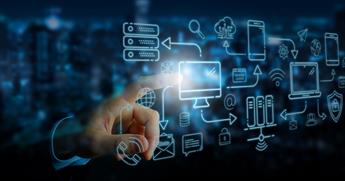 Content Management
Selecting a CMS? Top 5 Things to Consider
Are you finding that your current content management system isn't quite living up to the increased expectations your brand deserves?
Knowing when to make a transition of any kind is tough. When moving to a new content management system, it's good to have all the knowledge in-hand, in order to make an informed and timely decision.

We explore the key points to be aware of, in knowing when the time is right to move to a new CMS.

1. Basic Features: Your CMS should have these features at a minimum
The world of technology is constantly changing, and your CMS needs to keep up so you can be competitive and current. From basic editing and administrative tasks, to advanced technical capabilities, your CMS should make it easy for your team to get the work done.
Ease of use for both the developer and the non-technical user
Ability to repurpose modules and functionality across your website without developer involvement

Drag and drop layouts and forms to make creating pages simple and efficient
Multi-channel management – managing multiple sites from one place

Taxonomy – relating similar content on your site, providing the ability to share event, video or other ancillary information next to page content

Search Optimization - pages are generated in a way that it is easy to add meta data specifically for search engines, redirects are easy to set up, and sitemaps- XML and front facing are automatically generated.
2. Headless CMS Capabilities
Nowadays, your corporate website is only part of a myriad of services in a larger digital ecosystem. It not only has to present information that is entered into the content management system, it also has to be able to push and pull information and functionality from other sources.
If your CMS has headless CMS capabilities – meaning, your CMS has the ability to connect to 3rd party systems using "bridges" between your website and information that lives outside your website, it will make your website much more robust and useful to your audience.
As long as there are API's available from those 3rd party services, or API's can be created, your headless CMS will be able to present information on your website from these systems, or take information from the website and push it to those 3rd party systems.
Our clients have leveraged this technology many ways. One way is using these bridges to create a seamless user experience for managing online classes. By creating integrations between their website (through the headless CMS and their Learning Management Software) they are able to track registrations, CME credit and more using a secure website portal. The portal pulls information from the LMS system about classes that the user has taken and the CMS pushes information to the LMS about the classes that the user has registered for so that when a user logs into the portal, they have the information about all the classes they have registered for and taken all in one place. The portal also presents discounted or regular class rates based on membership levels that are pulled from another integration with their member software.

3. CMS Security: Critical in today's internet environment
Websites are constantly under attack. Your customers need to have a secure experience on your website. You need to be able to trust your CMS and your digital partner, so that your customers can put their trust in you.
Top security features you need to be aware of include:
Built-in Content Governance and Approval Workflows

Advanced secure permissions and roles
Secure digital asset management

Regular assessment of security vulnerabilities

Your vendor's diligence in releasing security patches regularly and other assets to mitigate the issues
Why should you worry about keeping up with the latest version for your CMS? First, you shouldn't have to worry. Your CMS partner and your CMS vendor should do that for you. They should always be working to find better ways to improve your experience and enhance yours and your users' security. Good CMS vendors will constantly improve the functionality of the product and make sure they are releasing updates regularly. Because these updates happen frequently- the process to do this should be very easy. Typically at Enqbator, we can upgrade our websites in under a week, and depending on testing and client approvals- launch it a few weeks later.
Key questions to be aware of ...
Are you more than 2 versions behind the latest version?

Has it been more than a year since your last upgrade?

Is there functionality you would like that is available in the newer version?
Is your database, operating system and server architecture compatible with a newer version?

5. Workflow
Content is king, but if the web team can't share the burden of updating the website content with the subject matter experts, the process to update content will become frustrating and burdensome. Having a CMS with an interface that is really easy to use, and a strong workflow will go a long way in spreading that responsibility to individuals or groups around the organization. Writers can be assigned the role of editors-- where they only have the ability to add content, edit content on a page or set of pages on a website. When they are ready to publish, they can submit the pages for approval. The request would go to a publisher or administrator for review, and that user would then have the ability to approve and publish the page or send it back to the writer for additional edits. The process is all managed within the content management system and alerts and notifications can be sent to everyone in the workflow chain.

Conclusion
There are so many advanced functionalities that are available with content management systems, but if your CMS is not able to handle the foundational points outlined above- it will be a challenge to get to a point where you can even implement those advanced features.
Your CMS should have the ability to provide a strong, secure foundation for your website that will help you create an exceptional user experience for your users and strengthen your brand.
At Enqbator, we're proud to be a Progress Partner, utilizing the Progress Sitefinity CMS for our client implementations. Our staff prides itself on always staying on top of the latest trends in the digital world and working with our clients' as an extension of their internal team. Our President and CEO, Sujal Raju is a content management system expert, and at the onsite of the company, selected Sitefinity CMS as the CMS of choice for Enqbator after extensive research across the CMS industry.
For more information on Enqbator and our team, please contact us at any time for a free demo or consultation.
Connect with us
Interested in our newsletter?
Sign Up