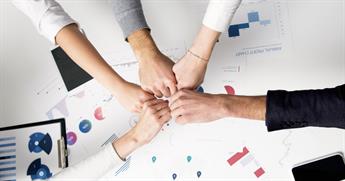 Awards
Meet the teams at the heart of the success for the 2020 Sitefinity Website of the Year in Healthcare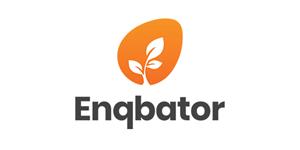 2020 was another successful year for the team at Enqbator. Together with their long-time client partners Spectrum Health Lakeland, Enqbator took home the Sitefinity Website of the Year Award in the healthcare category for the second time. They won the same honor in 2015.

For Spectrum Health Lakeland, this honor proved that once again, the web team at this St. Joseph, Michigan based hospital, continues to be on the cutting edge and always thinking forward.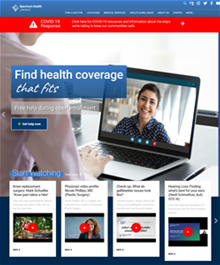 Successful partnerships take hard work and cooperation, and the teams at Enqbator and Spectrum Health Lakeland have been working hard together since 2012. Enqbator's vast experience serving the healthcare community, along with its highly dedicated designers, developers and support team, has helped this relationship grow even stronger.
Enqbator is proud of our accomplishments and our partnerships and we want you to meet those who played key roles in this year's Sitefinity Website of the Year award.
Award background, history and importance

Since its inception in 2011, the Sitefinity Website of the Year Awards recognize websites powered by Progress Sitefinity for their excellence in user experience and their innovation in applying Sitefinity features and capabilities.
Sitefinity is a leading CMS provider consistently cited in Gartner's Magic Quadrant. Progress, the makers of the Sitefinity CMS, has grown from its founding in 1981 to offices on six continents and customers around the globe including 1,700 independent software vendors, 100,000 enterprise customers and two million developers.
Sitefinity was named a Gartner Peer Insights Customers' Choice for Web Content Management winner for both 2019 and 2018. And the Sitefinity CMS is being used by over 10,000 companies around the world.
Spectrum Health Lakeland's challenge
As mentioned, 2020 marks the second time that Enqbator and Lakeland Health have teamed up to win Sitefinity's Website of the Year Award in the healthcare category, having also won in 2015.
This wasn't an easy accomplishment, with competitors in the healthcare category coming from all over the world.
Spectrum Health Lakeland needed to update the outdated design of their website but keep all the great functionality and integrations that were built over the years. They wanted to change the site experience to be more media heavy and opted for a filmstrip type layout that is similar to many media providers like Netflix and Amazon Prime Video.
They already have a strong base of employees turned web editors managing content independently, so the back end also had to be user friendly.
They wanted to redesign the site and add additional functionality, while maintaining a strong user experience on the front and back end. And they wanted to accomplish this in a very short period of time.
Enqbator expertise helps bring out the best in Sitefinity for Spectrum Health Lakeland
The Spectrum Health Lakeland website showcases many of the proven features of the Sitefinity CMS platform, including news, events, taxonomy and workflow.
The headless, or open aspect of Sitefinity, also allows the website to present data from external sources such as their medical credentialing system.
Enqbator's expertise in Sitefinity design and development and its proven track record as a trusted and reliable support team, are just a few of the traits that have let Enqbator help a large number of successful clients in the healthcare market.
Enqbator's President and CEO, Sujal Raju, implemented one of the very first healthcare-based content management systems in the industry. And he and his team brought that valuable experience into their relationship with Spectrum Health Lakeland.
Combining knowledge to deliver the best content to Spectrum Health Lakeland's users
By working together, Enqbator and Spectrum Health Lakeland were able to redesign and launch the new website in under 6 months.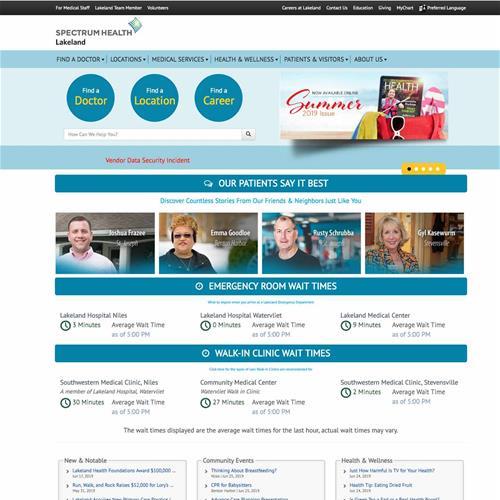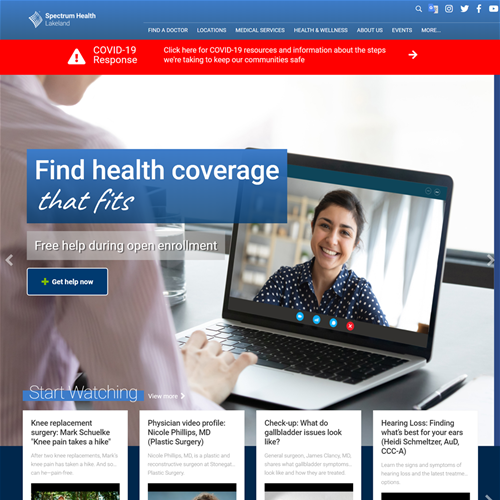 The new site features a mega menu with an embedded search that helps users find the information they are looking for, quickly.

The content filmstrips on the home page allow Lakeland to provide site visitors a large amount of rich content in a user-friendly way. The same content filmstrips are used on the service line pages to provide content relevant to the topic and is pulled in using taxonomy.
The Spectrum Health Lakeland website integrates with the CACTUS medical credentialing system, bringing the most up to date physician information onto the website in an automated way.
The site acts as a central repository for data, and news content is shared to the digital signage at Spectrum Health Lakeland's almost 40 locations through the website. Messages can be tailored specific to location and scheduled for posting at any time of day.
It also makes use of Sitefinity's built-in workflows, multichannel management, headless CMS capabilities, load-balancing, and site sync.
Mobile users increased from 30% to 50% immediately, and then moved upwards to 70%.
Teamwork and trust lead to another success
Both Enqbator and Spectrum Health Lakeland were incredibly happy to receive this award.
"We couldn't be prouder. We love what we do, and this award shows that if we put in the hard work, the success will follow. We're also extremely proud of our partnership with Spectrum Health Lakeland," Enqbator President and CEO Sujal Raju said.
"Working with Matt and his team motivates us to work harder and more creatively in order to help them get the most out of their website," Raju added.
"We are thrilled to be recognized with this honor, which reflects the work of our entire Lakeland Marketing & Communications team," said Megan Yore, Chief Marketing & Communications Officer at Spectrum Health Lakeland.
"Working with our valued partners Enqbator, we are able to imagine the possibilities and then develop within Sitefinity to create a modern, personalized website experience for our patients."
Creating a positive and successful partnership takes time. Enqbator and Spectrum Health Lakeland have worked together for many years and cultivated one of the best client-vendor partnerships in the business.
At Enqbator we appreciate and value so much the trust the team at Lakeland has shown us. We are honored to be able to work for such a cooperative and enthusiastic group, making a difference every day in their Michigan community.
If you'd like to find out more about the team at Enqbator and all the great services and products we offer, please reach out to us at any time. We're looking forward to meeting you!
Connect with us
Interested in our newsletter?
Sign Up