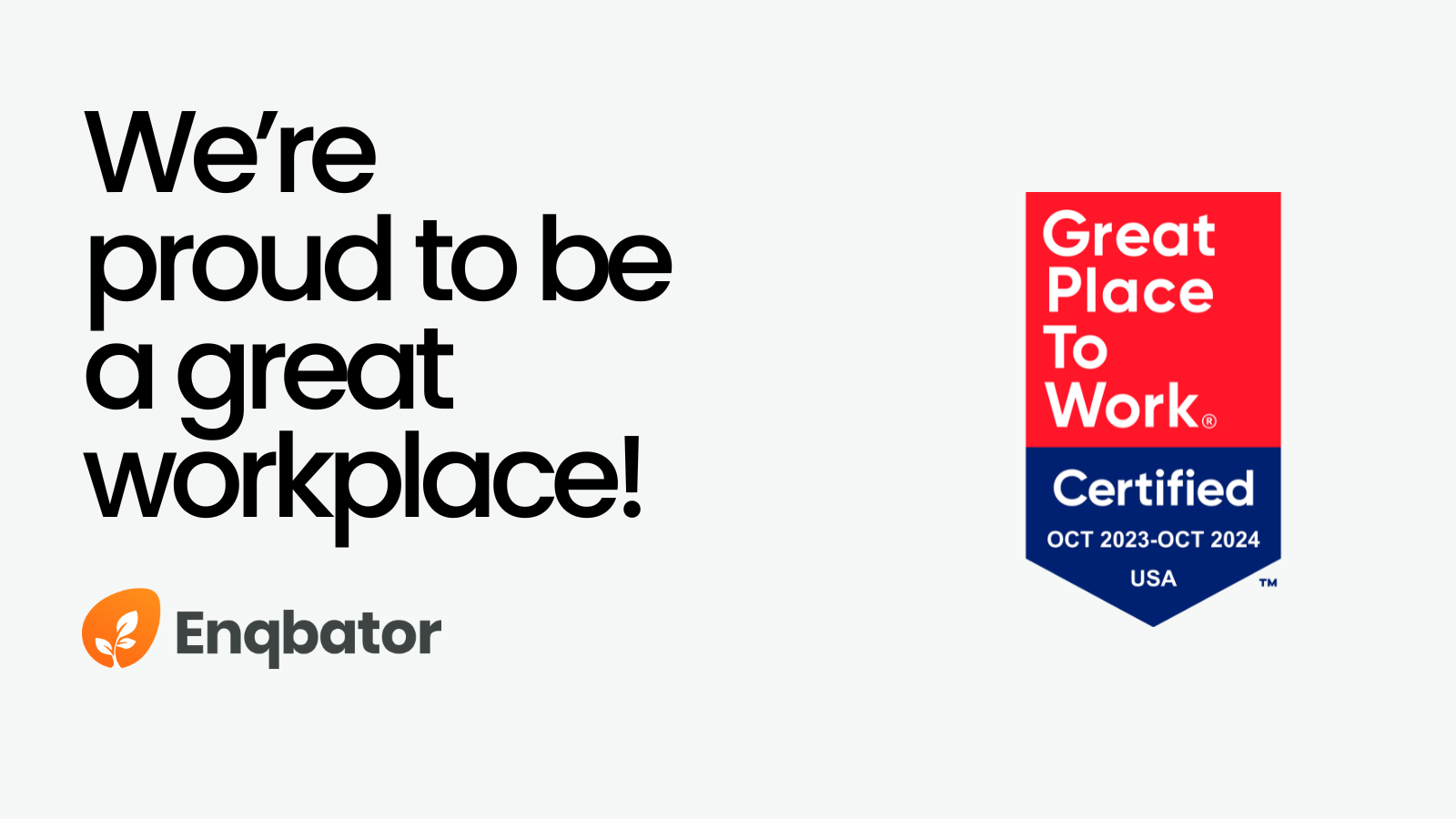 Enqbator Receives Great Place to Work Certification for Third Year in a Row™
Enqbator is proud to once again be Certified™ by Great Place to Work®!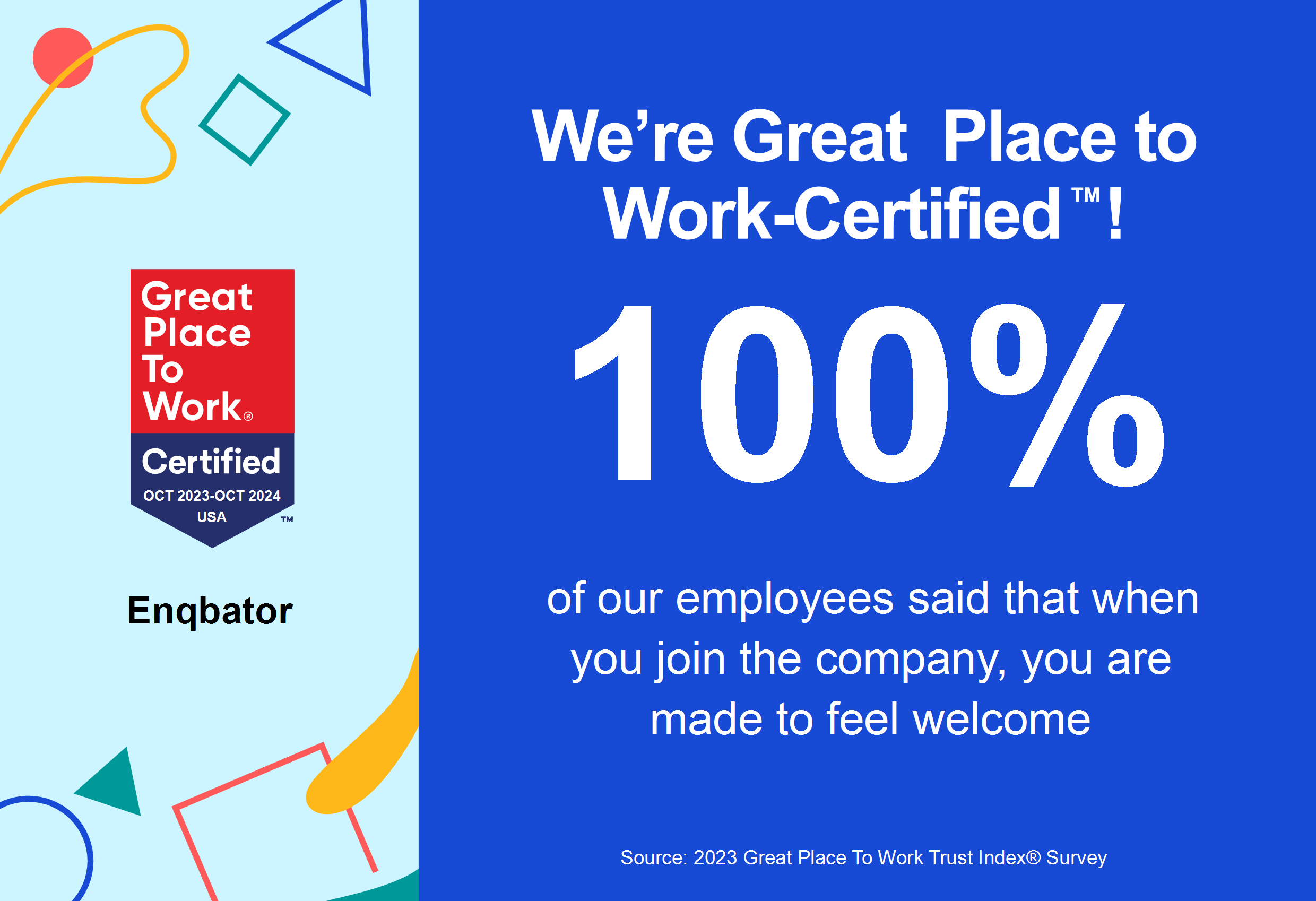 Troy, Michigan — Enqbator is proud to once again be Certified™ by Great Place to Work® — our third year in a row! This 2023-2024 award is based entirely on what current employees around the world say about their experience working at their respective companies.
Enqbator is thrilled that its employees get to be recognized for all the hard effort and teamwork they've put in to make Enqbator such a rewarding, fun, and GREAT place to work!
Enqbator, established in 2011, has quickly grown its reputation not only throughout Michigan, but around the country, delivering proven CMS-based digital solutions to its many clients. Its current client list contains some of the most-respected brands across multiple markets. Enqbator partners include The Henry Ford of Dearborn, Michigan, Corewell Health, the Michigan Association of School Boards, P.F. Chang's, Mortgage Center and more.
"We are thrilled to be Great Place to Work® Certified once again. We are proud of the culture we have developed, and excited that our team members are also proud of that culture and of their role in our success," said Enqbator President, Founder and CEO Sujal Raju. "We owe our continued success to our team members, and we thank them for all they do every day. They truly are the reason we are here," Raju added.
Great Place To Work® is the global authority on workplace culture, employee experience, and the leadership behaviors proven to deliver market-leading revenue, employee retention and increased innovation.
"Great Place To Work Certification is a highly coveted achievement that requires consistent and intentional dedication to the overall employee experience," says Sarah Lewis-Kulin, the Vice President of Global Recognition at Great Place To Work. She emphasizes that Certification is the sole official recognition earned by the real-time feedback of employees regarding their company culture. "By successfully earning this recognition, it is evident that Enqbator stands out as one of the top companies to work for, providing a great workplace environment for its employees."
Employees at Enqbator enjoy a fun, family, team atmosphere that promotes and rewards hard work and commitment. Enqbator team members always put the client first and understand the importance of the attention and care each client needs and deserves.
Employees are encouraged to be creative and find new ways to solve challenges. Flexible work situations are allowed to help team members cope with everyday life events, no matter how big or small. This approach always seems to bring out the best in everyone and makes each team member feel just as important as the next.
About Enqbator
Enqbator partners with any size organization to design, develop and optimize websites, portals, and mobile applications. Our focus includes the healthcare, judicial and nonprofit markets. Since 2011, we have been creating multifaceted websites that support complex functionalities and integrations (e.g., integrating password-protected portals with standalone or web-based mobile apps) for influential brands Whether building a website or mobile application from the ground up or moving one to a new content management system, Enqbator will consult, design, and develop a project, then provide ongoing maintenance and support. As an established certified partner of the Progress Sitefinity Digital Experience Platform, the team at Enqbator finds multiple ways to make the most out of a customer's web content. Find out more at Enqbator.com or on Twitter, LinkedIn, Facebook, and Instagram.
About Great Place To Work®
As the global authority on workplace culture, Great Place To Work® brings 30 years of groundbreaking research and data to help every place become a great place to work for all. Their proprietary platform and For All™ Model helps companies evaluate the experience of every employee, with exemplary workplaces becoming Great Place To Work Certified™ or receiving recognition on a coveted Best Workplaces™ List. Learn more at greatplacetowork.com.
Connect with us
Interested in our newsletter?
Sign Up