Enqbator once again takes home multiple Horizon Interactive Awards and named Distinguished Agency for 2022
Troy, Michigan – Enqbator, a leading digital solutions agency, is excited to be recognized for their excellence in website design, development, and user experience by The Horizon Interactive Awards.
For calendar year 2022, Enqbator received recognition for its work for three of its major healthcare partners: Beaumont ACO (Accountable Care Organization) from Southfield, Michigan, The University of Arkansas for Medical Sciences from Little Rock, Arkansas, and The American Society of Addiction Medicine based in Rockville, Maryland.
In addition to these Enqbator clients, Enqbator's own corporate website received recognition in the HIA advertising, digital and creative category along with Enqbator itself being named a 2022 HIA Distinguished Agency.
The Horizon Interactive Awards is a prestigious international competition that recognizes outstanding achievements in interactive media production. This year, the competition received over 1,200 entries from around the world, and Enqbator was honored to be recognized for its creativity, hard work, and dedication to its own team and to its clients.
This honor recognizes the exceptional work done by the collective teams involved, and Enqbator congratulates each organization for this great accomplishment.
Enqbator's leadership and the rest of the team were excited to learn of the results from this year's Horizon Awards. Once again, it showed the value of Enqbator's teamwork, dedication, and commitment to exceed client expectations.
The following Enqbator projects and client partners were named as winners in their respective categories for 2022:
Beaumont ACO Portal App – Gold Award in the Mobile Apps - Health and Fitness category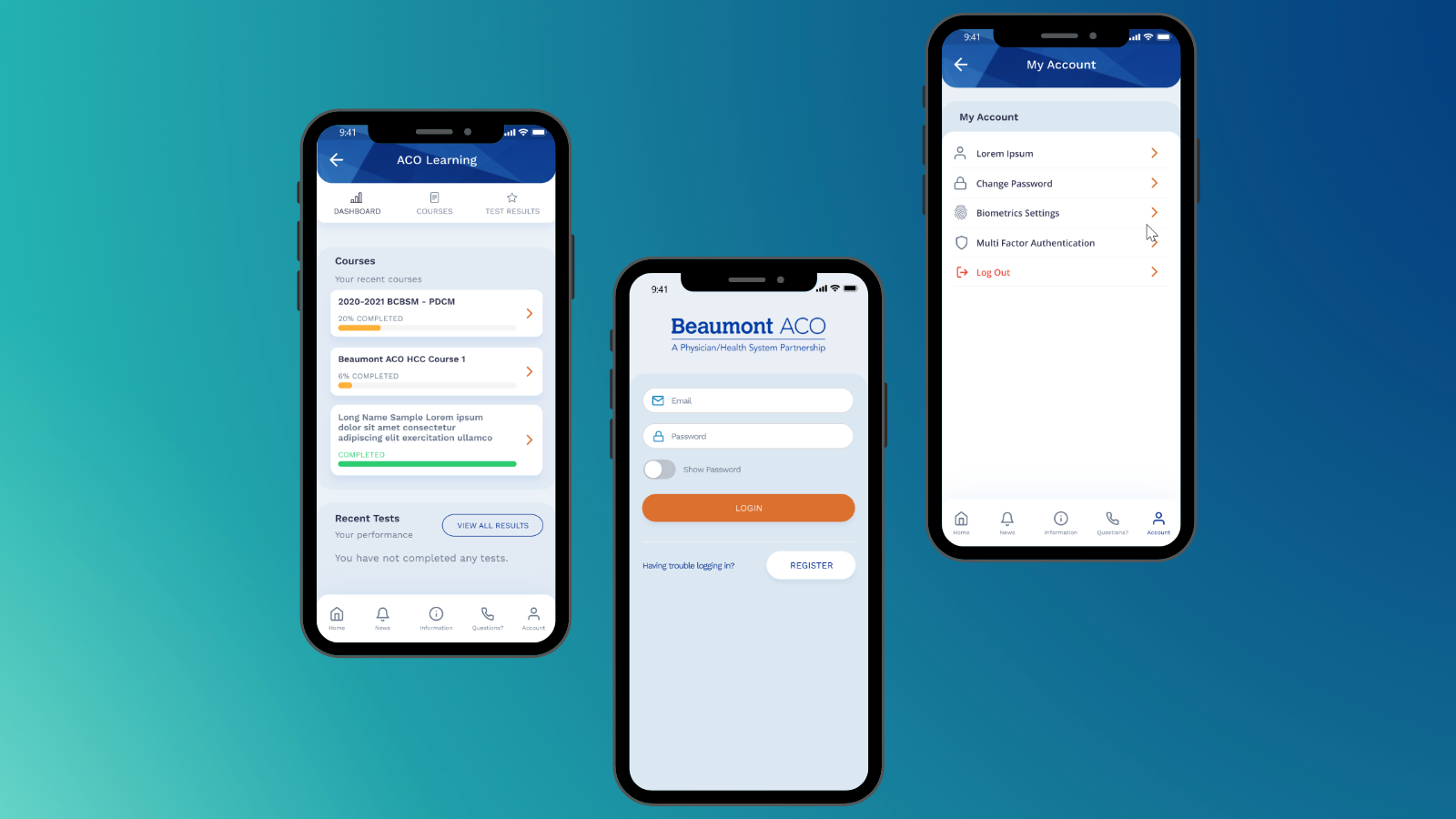 The Beaumont Accountable Care Organization (ACO) is a physician and health system partnership, working to provide services for Beaumont Health (now Corewell Health), Michigan's largest health care system, with eight hospitals and nearly 5,000 physicians. Beaumont ACO helps maximize clinical value, contracts, and incentive opportunities for its members with the goal of making all aspects of patient care better and more efficient. Accountable Care Organizations are not specific to Beaumont. ACOs were encouraged by the ACA (Affordable Care Act) to bring a "coordinated care" approach, helping physicians and health systems come together to provide savings and better care to all patients.
Hundreds of Beaumont ACO's physicians and managers access important documents through a members-only portal at beaumont-aco.org. Documents are uploaded and stored on the organization's website and the portal is only accessed using a membership-based login. There is also an LMS (Learning Management System) where physicians can take courses and receive credit.
The goal of the project was to create a mobile application that took advantage of the existing portal functionality. Beaumont ACO needed a simple, cost-effective mobile-based solution that gave its members faster and much easier access to these documents. Security was also a crucial factor, as was overall design and usability. All aspects of this venture were accomplished.

OptiMAT, from the University of Arkansas for Medical Sciences (UAMS) – Bronze Award in the Mobile Apps - Government category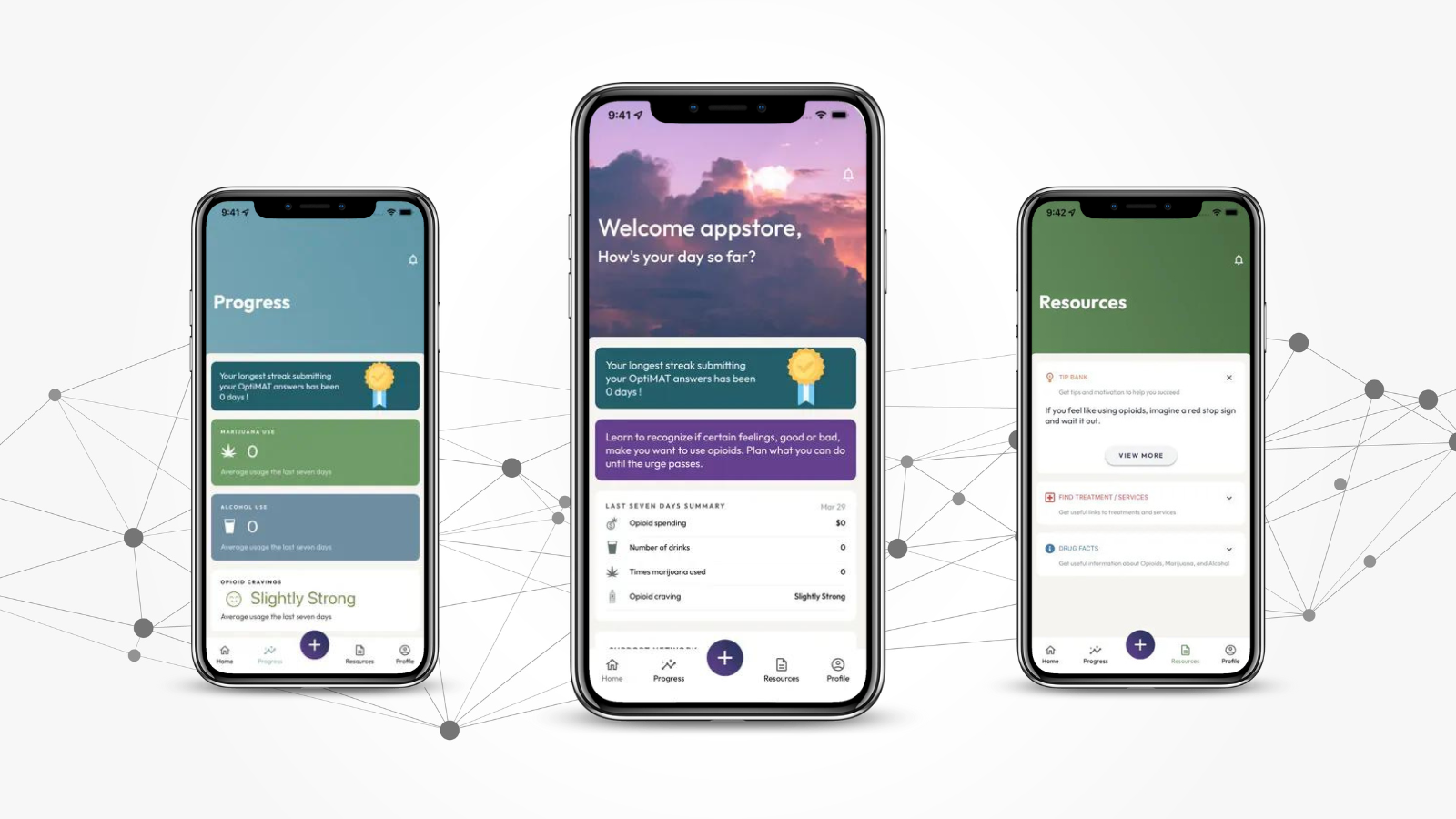 The newly developed app called OptiMAT (Optimizing Medication Assisted Treatment) is supported by an NIH grant secured by the University of Arkansas for Medical Sciences (UAMS).
The OptiMAT app is being used by adult UAMS patients receiving treatment for opioid use disorder who have signed up and volunteered to be part of a six-month study to reduce opioid use. The focus of this study is not on alcohol or marijuana use, but it is solely to determine whether the use of this app helps curb use and helps participants abstain from opioids. The OptiMAT app is available for download on both the Google Play Store and Apple App Store.
OptiMAT was built with user-friendly front-end screens which are clear and intuitive. Participants can track their daily medication, drug usage, and log their mood. Over time, participants will be able to monitor important progress information with the app. Notifications of encouragement will be sent throughout the day, and participants will receive an end of the day summary. Notifications reminding participants to use the app will also be sent, and participants will only be able to view their own information.
OptiMAT uses current GPS technology for hotspots or areas of increased vulnerability which will be set up during the registration process using each participant's address or current coordinates. If a participant comes within a pre-determined radius of a hotspot for a designated length of time, a series of warning alerts will be sent.
The American Society of Addiction Medicine (ASAM) – Bronze Award in the Websites – Health / Human Services category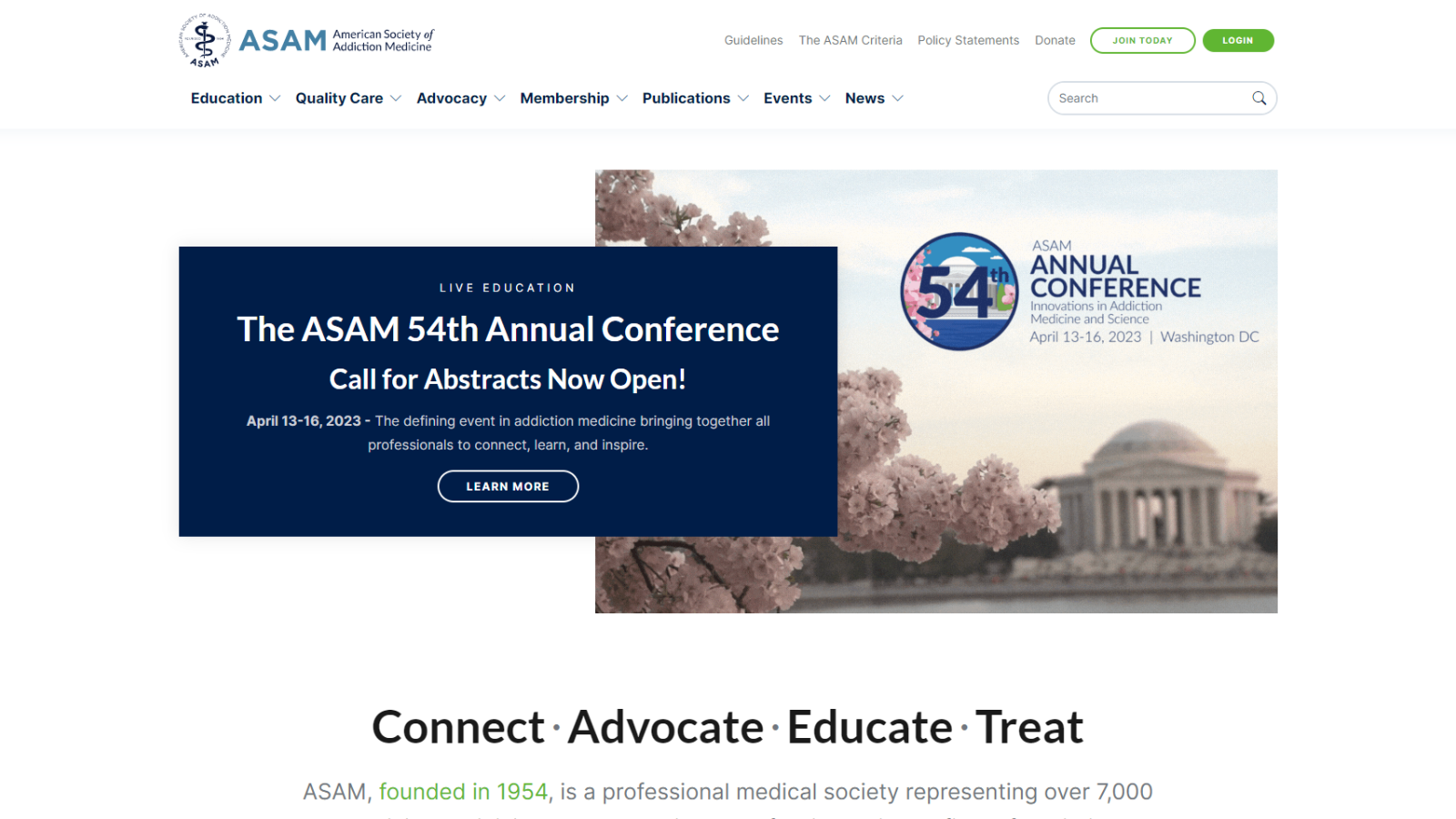 The American Society of Addiction Medicine (ASAM), based in Rockville, Maryland, is the largest leading professional society in addiction medicine. It serves as a physician-led professional community for those who prevent, treat, and promote remission and recovery from the disease of addiction. ASAM also provides important related resources for continuing innovation, advancement, and implementation of addiction science and care.
The completely reimagined website gives all users, including physicians, clinicians, researchers, and associated professionals in the field of addiction medicine easier access to all the resources available on the website. Content includes treatment guidelines and protocols, along with world-renowned courses in addiction medicine.
The website transformation project for ASAM began from the ground up, with Enqbator implementing major design upgrades. Clean, beautiful innovative design elements, more white space, enhanced page designs and layouts, and long-form content, all combined for a user-friendly and attractive new look.
The design strategy continued and flowed naturally into the technical improvements made to the new ASAM website. A fully redesigned Physician Search and fully redesigned and reengineered knowledge base for the ASAM Continuum software were also put in place.
Enqbator – Bronze Award in the Websites – Agency (Ad, Digital, Creative category) and 2022 Distinguished Agency List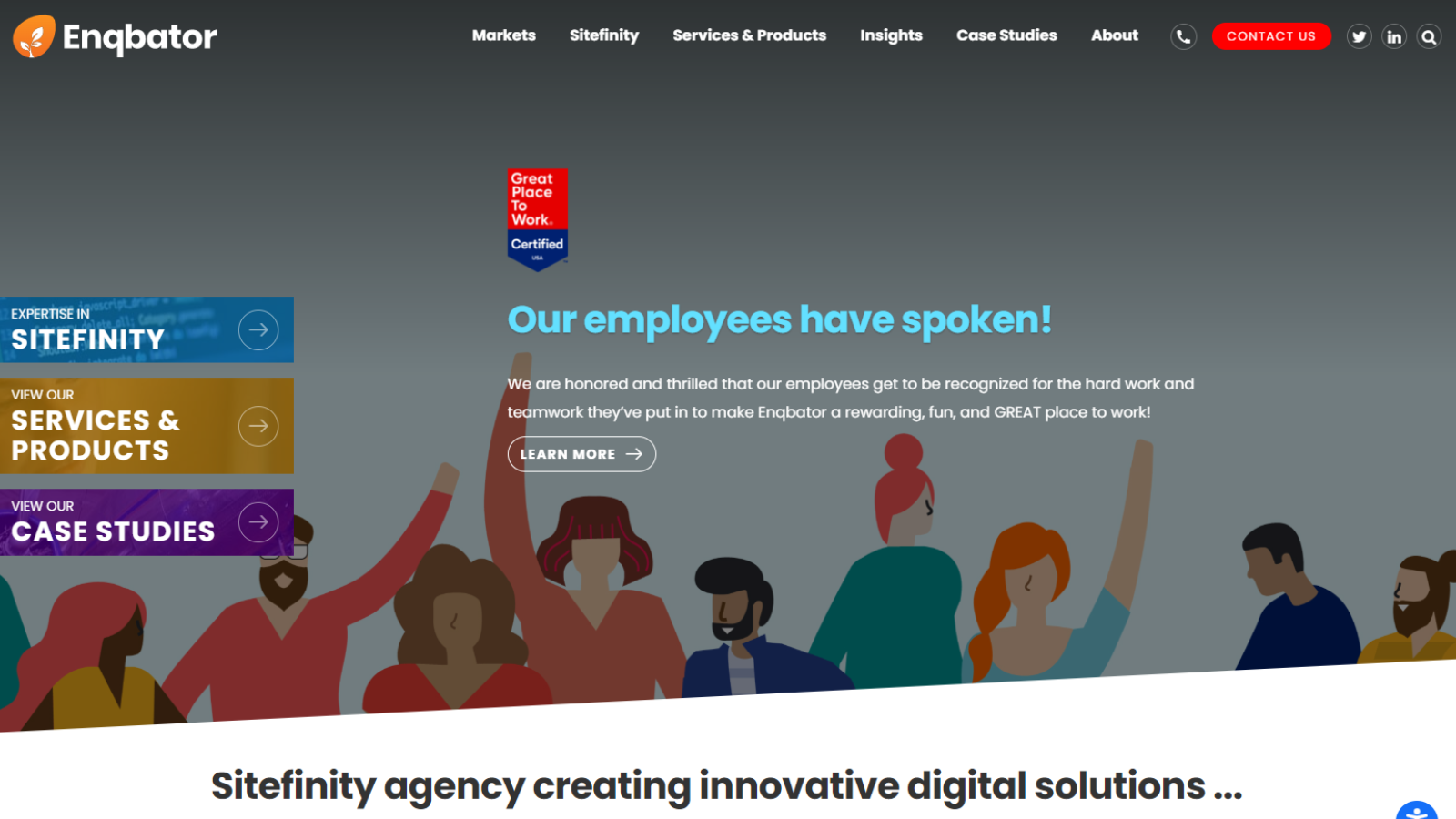 Enqbator's solutions-based and collaborative approach has paid off with many successes for its clients. Enqbator is proud of its many client partnerships and works tirelessly to assure that each client is provided with a unique and creative solution to its challenges. The Enqbator design team works very closely with Enqbator developers and especially with our partners, making sure that the client's customers and brand are the highest priority.
For 2022, the Horizon Interactive Awards has not only recognized Enqbator for its proven design and development expertise but also for its combined efforts and commitment to success with the Distinguished Agency designation. This agency award is the result of all the demanding work put in by Enqbator's team members toward making sure that Enqbator's clients are successful.
Enqbator designs and develops creative digital solutions, including websites, web and mobile applications, custom portals, and integration solutions. Enqbator partners with many successful and well-respected brands from across the country in all different industries. The Enqbator team proudly provides exceptional customer service, highly technical and creative web and mobile expertise, and complete but cost-effective solutions. With a passionate and dedicated team of professionals with advanced expertise in the Sitefinity DX platform, Enqbator leads the way in creating world-class enterprise products and services.
Enqbator acts as an extension of each client's team and builds long-lasting and trusted partnerships through its honest, responsive approach, personal care and attention, and passionate commitment to each client's success. As an established certified Premium Partner of the Progress Sitefinity Digital Experience Platform, the team at Enqbator finds multiple ways to make the most out of a customer's web content. Enqbator not only prides itself on its technical creativity but also on a strong passion for supporting its clients and creating long-lasting and trusted partnerships.
About the Horizon Interactive Awards
In its 21st season, the Horizon Interactive Awards was created to recognize excellence in interactive media production worldwide. Since 2001, the competition has received tens of thousands of entries from over 50 countries around the world and nearly all 50 US States. Each year, those entries are narrowed down to the "best of the best" to be recognized and promoted on an international stage for their excellence. The judging process involves a blend of the Horizon Interactive Awards advisory panel and a rotating panel of volunteer judges consisting of respected and engaged industry professionals. Winning entries have been dubbed the "best of the best" in the interactive media industry.
Connect with us
Interested in our newsletter?
Sign Up