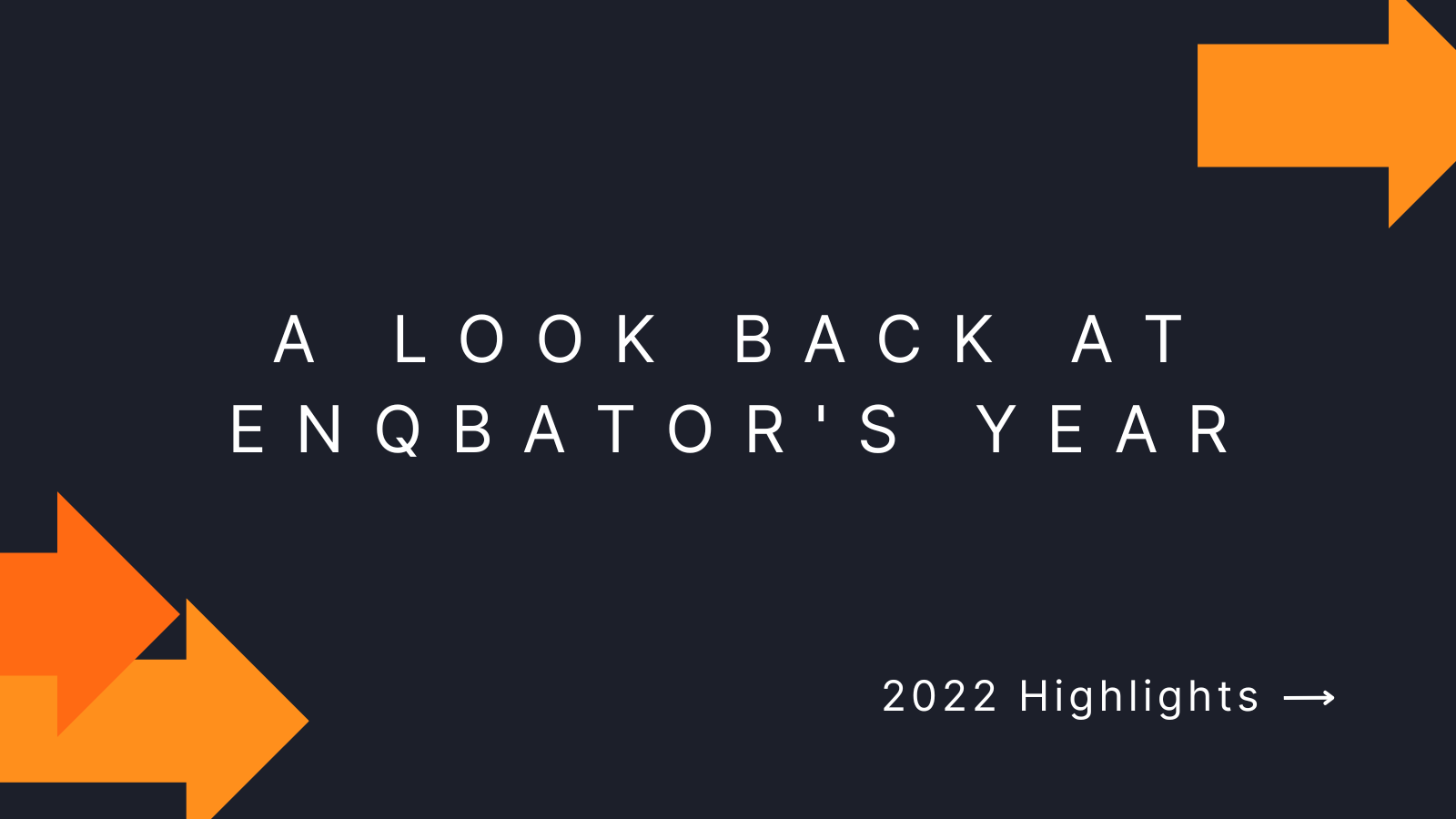 2022 Was a Banner Year for Enqbator: A Look Back at Rewards and Recognitions
Troy, Michigan -- Award-winning digital solutions agency Enqbator, had one of its most successful years on record in 2022.
In addition to bringing on new partners Mortgage Center, Hancock County, American Society for Addiction Medicine, Sturgis Bank, and Clackamas Community College, the Enqbator team helped oversee the Corewell Health website re-branding for both Beaumont and Spectrum Health-Lakeland.
Enqbator also increased its presence at two prestigious national healthcare conferences – the Healthcare Internet Conference (HCIC) and Healthcare Marketing and Physician Strategies Summit (HMPS). Both conferences featured Enqbator Founder/CEO Sujal Raju in a speaking role, along with an additional sponsor-level presence.
And along with these new partnerships and added conference exposure, the Enqbator team gained more recognition and awards for both its team members and their work.

Here is a look back at all the Enqbator highlights, awards, and recognition from the year 2022.
Progress Gold Partnership
Enqbator has been a certified Progress Partner for close to a decade and utilizes the Progress Sitefinity Digital Experience Platform (DXP) as its preferred content management solution for its many clients.
Progress enables customers to build the applications and experiences they need, deploy where and how they want, and manage it all safely and securely. Hundreds of thousands of enterprises, including 1,700 software companies and 3.5 million developers, depend on Progress to achieve their goals.
Gold partners are experienced and successful in delivering Progress-based solutions to customers. Enqbator is a proven expert in doing just that. Its team of passionate and highly knowledgeable developers, designers, and project and account managers have proven repeatedly just how valued it is from every one of its client partners.

Progress MVP designation for Enqbator Founder & CEO Sujal Raju
Enqbator Founder and CEO, Sujal Raju, has been chosen to be part of the Progress MVP Program. Raju is one of 12 technologists in the country to receive this prestigious designation. He joins the ranks with other leaders in the field whose companies are making notable advancements in technology using Progress' CMS solution, Sitefinity, .NET applications and advanced integrations with services such as Salesforce, Odyssey, Microsoft Dynamics, Cactus, Kyruus and Zoom. These ambassadors have demonstrated consistent, solid knowledge of the latest Sitefinity offering and their companies are at the forefront of innovation, pushing Sitefinity to solve complex business, marketing, and operational challenges.
Enqbator receives Great Place to Work Certification
Enqbator is thrilled that its employees get to be recognized for all the hard effort and teamwork they have put in to make Enqbator such a rewarding, fun, and GREAT place to work!
Enqbator has grown its client-partner list steadily through the past 12 years, as word-of-mouth referrals helped spread the positive Enqbator reputation not only throughout Michigan, but around the country. Its current client list includes high-profile and respected companies such as Beaumont Health, Spectrum Health Lakeland, The Henry Ford, and Mortgage Center, along with major district, circuit, and supreme court systems.
"We are really excited to once again be Great Place to Work® Certified. We are proud of the culture we have developed, and excited that our team members are also proud of that culture and of their role in our success," said Enqbator Founder and CEO Sujal Raju. "We owe our continued success to our team members, and we thank them for all they do every day. They truly are the reason we are here," Raju added.

Sitefinity Website of the Year and Horizon Interactive awards for inHub website and portal from The Henry Ford
inHub, created by The Henry Ford as "The learning platform, built by educators for educators," bills itself as a global resource for innovation, invention, and entrepreneurship. The Henry Ford is America's primary resource for innovation, invention and entrepreneurship-related objects, documents, experiences, and stories.
inHub supports this work by creating an online global community that offers its members a digital asset library, curriculum and learning resources, professional development and certification, and virtual field trips and experiences – all in one place.
Enqbator played a key role in the design and development of the inHub website, including important integration and portal solutions. Enqbator represents its clients with design, development and support expertise, and services. We are honored to see these combined efforts receive such great recognition from both the Horizon Interactive Awards and from Progress Sitefinity.
ASAM (American Society for Addiction Medicine) Website Receives 2022 e-Healthcare Leadership Award
ASAM's new website took home the e-Healthcare "Distinction" award in the Best Overall Internet Category for Healthcare or Professional Associations.
This leading awards program, which draws some 1,000 entries, exclusively recognizes the very best websites and digital communications of healthcare organizations (both large and small), online health companies, pharmaceutical/medical equipment firms, agencies/suppliers, and business improvement initiatives.
These awards highlight the role of digital communications in achieving healthcare organizations' business objectives. The eHealthcare Leadership Awards recognize the work that has gone into creating outstanding health websites and digital initiatives.

Horizon Interactive Award for the Wayne Pediatrics website
Working in collaboration with Wayne State University and Ascension St. John Children's Hospital in Detroit, Wayne Pediatrics offers community-based primary and specialty pediatric care, medical education and training, and community and population-based research.
Enhanced design features of the new Wayne Pediatrics website, intended to better reflect the clinic's purpose and pediatric mission, included more colorful, prominent, and engaging graphics and animations. Updates improved the user experience for staff and physicians, making every aspect of the clinic's online experience easier.

Horizon Interactive Award for the American Society of Addiction Medicine (ASAM) website
The American Society of Addiction Medicine (ASAM), based in Rockville, Maryland, is the largest leading professional society in addiction medicine. It serves as a physician-led professional community for those who prevent, treat, and promote remission and recovery from the disease of addiction. ASAM also provides important related resources for continuing innovation, advancement, and implementation of addiction science and care.
The completely reimagined website gives all users, including physicians, clinicians, researchers, and associated professionals in the field of addiction medicine easier access to all the resources available on the website. Content includes treatment guidelines and protocols, along with world-renowned courses in the field of addiction medicine.
The 20th Anniversary of the Horizon Interactive Awards received over 700 entries from around the world including 26 out of 50 US States and 21 other countries including: Australia, Belgium, Canada, Columbia, Denmark, Germany, Greece, Hong Kong, India, Ireland, Japan, Philippines, Russia, Singapore, Sri Lanka, Switzerland, Taiwan, Turkey, Ukraine, United Arab Emirates, and the UK.
NIDA "Product Prototypes to Combat Drug Craving" Challenge- OptiMAT
As part of the 2022 NIDA "Product Prototypes to Combat Drug Craving" Challenge, the team at UAMS was recognized for their work on the competition submission titled "OptiMAT: A smartphone application to decrease opioid cravings, and Optimize MAT, for opioid use disorders." OptiMAT stands for Optimizing Medication Assisted Treatment.
The design, development and UX teams at Enqbator worked closely with the researchers at UAMS to create an effective, easy-to-use mobile application, with the user experience given the highest level of importance. This revolutionary mobile app also utilizes the power of the Progress Sitefinity DX platform to help manage and drive content and produce important metrics and reports.
Collaborating with UAMS team members Andrew James, Ph.D., Ronald G. Thompson, Ph.D., and Mary Bollinger, Ph.D., Enqbator was able to help create an app that not only provides a successful path to healing for its users, but also provides a wealth of data for its administrators.

Looking back, 2022 was another extremely rewarding year for the team at Enqbator, and here's to another productive and successful 2023. For more information on Enqbator's products and services, please contact us today. We are looking forward to meeting you.
Enqbator is a digital solutions agency that provides exceptional customer service, highly technical and creative web, and mobile expertise, and complete, but cost-effective solutions. With a passionate and dedicated team of digital solutions professionals with advanced expertise in the Sitefinity DX platform, Enqbator leads the way in creating world-class enterprise results for top brands across multiple industries.
As an established certified Gold Partner of the Progress Sitefinity Digital Experience Platform, the team at Enqbator finds multiple ways to make the most out of a customer's web content. Enqbator not only prides itself on its technical creativity but also a strong passion for supporting its clients and creating long-lasting and trusted partnerships.
Connect with us
Interested in our newsletter?
Sign Up