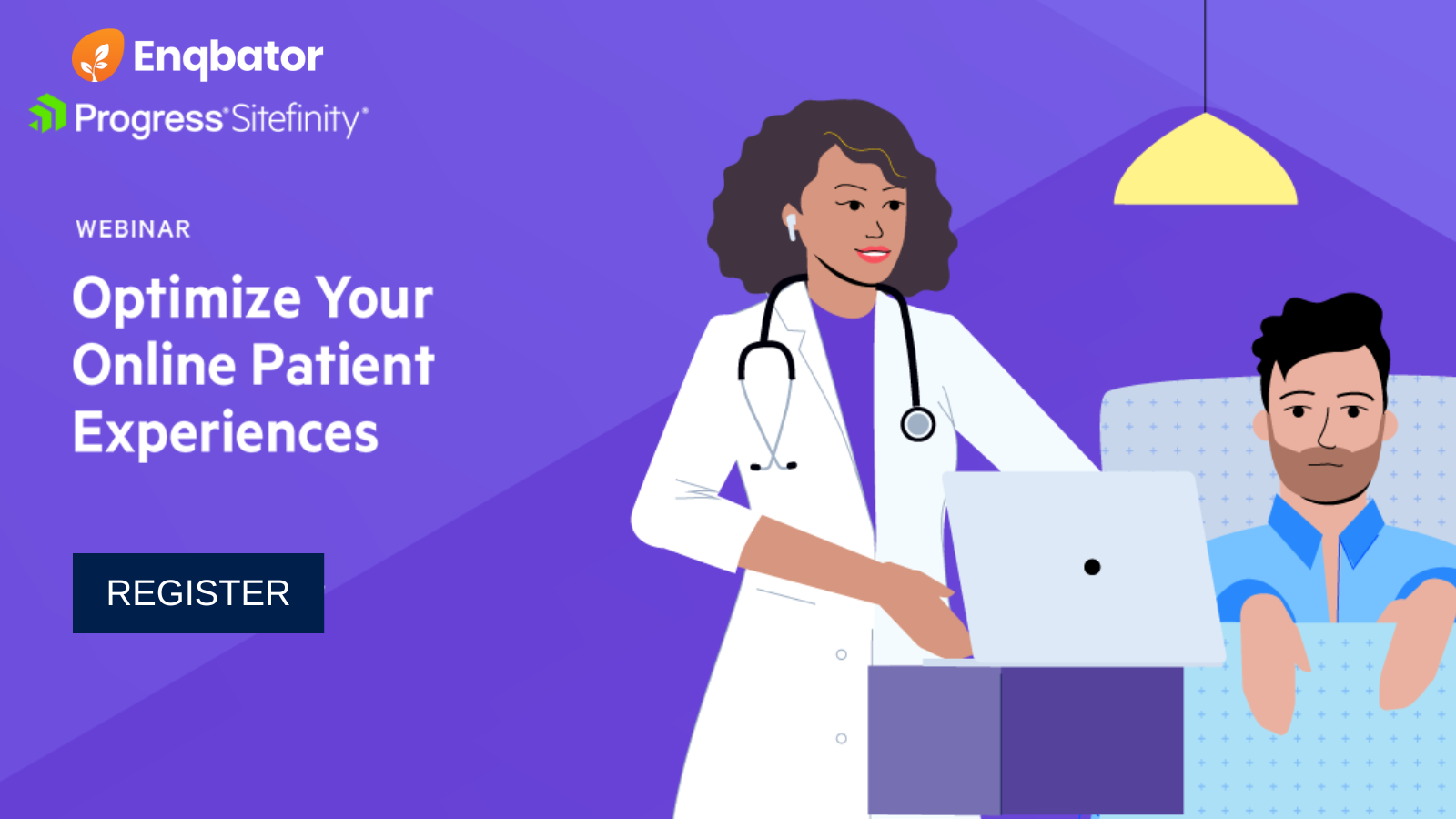 Optimize Your Online Patient Experience: Enqbator Joins Progress Sitefinity for Important Webinar
Enqbator, an award-winning and trusted digital solutions agency, is excited to announce that its CEO and Founder, Sujal Raju, will be taking part in an important webinar to be presented on September 28, 2022, at 11:00 a.m. ET.
Raju will join top product specialists from Progress to discuss, from a healthcare perspective, how to optimize and personalize a patient's online experience utilizing the power of Progress Sitefinity DX.
Raju, one of the leading experts in the field of healthcare-focused digital solution implementations, brings his unique experiences and deep technical knowledge to the conversation. Raju and the Progress team will be focusing on the following main topics:
Delivering effective, patient-centric experiences (at any digital maturity stage)
Providing relevant information based on behavior or interest-based personalization
Implementing personalization while remaining HIPAA/GDPR compliant
In today's world of strict online privacy regulations, this upcoming webinar will provide a great understanding of how to effectively implement a safe, compliant, and completely personalized online experience for the healthcare industry.
Healthcare marketers and administrators are under increased pressure to provide a secure online experience but also deliver a user experience that is extremely personalized and rewarding.
Sujal Raju and the team at Enqbator have produced numerous healthcare-based digital solutions for many top brands, including Beaumont Health and Spectrum Health.
ABOUT ENQBATOR
Enqbator
is a digital solutions agency based in Troy, Michigan. We provide exceptional customer service, highly technical and creative web, and mobile expertise, and complete, but cost-effective solutions. With a passionate and dedicated team of digital solutions professionals with advanced expertise in the Sitefinity DX platform, Enqbator leads the way in creating world-class enterprise results for top brands across multiple industries. Enqbator not only prides itself on its technical creativity, but also a strong passion for supporting its clients and creating long-lasting and trusted partnerships.
Dedicated to propelling business forward in a technology-driven world, Progress (Nasdaq: PRGS) helps businesses drive faster cycles of innovation, fuel momentum and accelerate their path to success. As the trusted provider of the best products to develop, deploy and manage high-impact applications, Progress enables customers to develop the applications and experiences they need, deploy where and how they want and manage it all safely and securely. Hundreds of thousands of enterprises, including 1,700 software companies and 3.5 million developers, depend on Progress to achieve their goals—with confidence. Learn more at www.progress.com.
Connect with us
Interested in our newsletter?
Sign Up