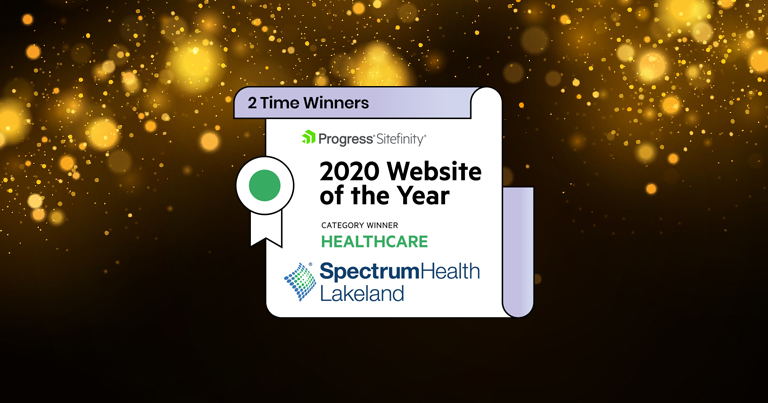 Enqbator and Spectrum Health Lakeland team up to win the 2020 Sitefinity Website of the Year Award
Enqbator is excited and honored to announce that its longtime client Spectrum Health Lakeland has won the 2020 Progress Sitefinity Website of the Year Award for Health Care.

Troy, Michigan -- Enqbator is excited and honored to announce that its longtime client Spectrum Health Lakeland has won the 2020 Progress Sitefinity Website of the Year Award for Health Care.
Since its inception in 2011, the awards recognize websites powered by Progress Sitefinity for their excellence in user experience and their innovation in applying Sitefinity's features and capabilities.
Implemented by the team at Enqbator, the Lakeland website showcases many of the proven features of the Sitefinity CMS platform, including news, events, taxonomy and workflow. The headless or open aspect of Sitefinity also allows the website to present data from external sources such as their medical credentialing system.
Enqbator partnered with Lakeland almost seven years ago when the health system's website was first migrated to Sitefinity. Since then, the two teams have continued to work together closely, with Enqbator providing ongoing support, hosting and development work.

"We are thrilled to be recognized with this honor, which reflects the work of our entire Lakeland Marketing & Communications team," said Megan Yore, Chief Marketing & Communications Officer, Spectrum Health Lakeland. "Working with our valued partners Enqbator, we are able to imagine the possibilities and then develop within Sitefinity to create a modern, personalized website experience for our patients."

In 2019, the teams embarked on a new project together to complete a major design overhaul of the site, utilizing a more content efficient "filmstrip" styled page layout.
This marks the second time that Lakeland and Enqbator have won this award from Progress Sitefinity.
"We couldn't be prouder. We love what we do and this award just shows that if we put in the hard work, the success will follow. Our team is really excited to bring home another prestigious award. We're also extremely proud of our partnership with Spectrum Health Lakeland," Enqbator President and CEO Sujal Raju said.
"Working with Matt and his team motivates us to work harder and more creatively in order to help them get the most out of their website," Raju added.
To find out more about the team at Enqbator and what we can do for you, please feel free to reach out to us at any time at (248) 721-8959, info@enqbator.com or connect with us online.

Learn more about the Progress Sitefinity Website of the Year awards.


Enqbator is a web development firm based in Troy, Michigan that specializes in all aspects of web development, from websites and mobile apps to analytics and online marketing. Their unparalleled expertise in integrating client sites with clients' internal and external systems provides users with seamless browsing experiences. By striving to work as an extension of each client's own team, Enqbator has forged long-lasting professional relationships.
About Spectrum Health Lakeland
Spectrum Health Lakeland
is a not-for-profit, community-owned health system serving Southwest Michigan and northern Indiana with a full continuum of care and wellness services including three hospitals, an outpatient center, a cancer center, and 48 physician practices. Lakeland is a division of Spectrum Health with 31,000 compassionate professionals, 4,600 medical staff experts, 3,300 committed volunteers and a health plan serving one million members. Lakeland was named a 15 Top Health System® and 100 Top Hospital® by IBM Watson Health™ in 2019.
Connect with us
Interested in our newsletter?
Sign Up