"Don't Be Left Behind. Prepare Your Website Now for the 5G Revolution"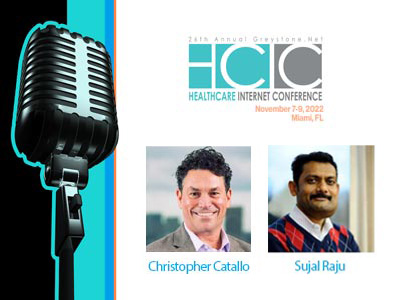 PRESENTERS: Christopher Catallo, CEO of HealthNxt and Sujal Raju, Founder & CEO of Enqbator

LOCATION: Royal Ballroom #4
DATE/TIME: Tuesday, November 8 from 2:00 - 2:50 PM (local time)

Description: Is your website infrastructure and your web content ready for the future? Technology moves faster than you think and if you're not ready, your customers and your brand's reputation may be left behind. With the onset of the 5G revolution, users will want more content, and they will want it faster than before. Learn how your website can be prepared technically, so that you can bring out the most in your content.

About Christopher: Christopher Catallo is the Chief Executive Officer at HealthNxt and with over 25 years of experience, he possesses deep domain expertise in digitizing the consumer and patient experience, software development, mobile app, and web technology. Previous roles include President, Healthgrades, Executive Vice President at Greystone.Net, and the Vice President of Web Products and Services for CareTech Solutions, Inc. With a penchant for innovation, development, leadership, and entrepreneurial spirit, he was also the first keynote speaker at HIMSS HIT X.O annual conference and kicked off the Asia Pacific digital consumer experience tour with HIMSS. A graduate of Oakland University, Christopher was recognized as their 2001 Alumnus of the Year, for outstanding post-graduate accomplishments and for developing technical advancements for the University and health systems nationwide.

About Sujal: Sujal Raju, was at the forefront of technology in the early 2000s and identified the need for easy-to-use content management systems in the healthcare market. Sujal was one of the first to develop an effective CMS for the industry and, with that vision and purpose in mind, Enqbator was born. Now, Enqbator's highly dedicated team of web professionals with advanced expertise in the Sitefinity CMS lead the way in creating world-class enterprise websites and digital solutions for top brands across multiple industries. We are proud to offer our technical creativity and innovation to support our clients and build long-lasting partnerships.